Last Updated on
You want a desk from the future? Well you are in for a rude awakening.
While these desks are not floating like a hover board, but they are floating in the sense that they are attached to the wall. Still cool.

The only rule here is that they can't touch the ground! If you arn't sold on a floating desk quite yet, be sure to check out other desks types.
Stylish Floating Desks
If style is what you are going for, then these desks might be the cream of the crop. These could look good in many different types of rooms: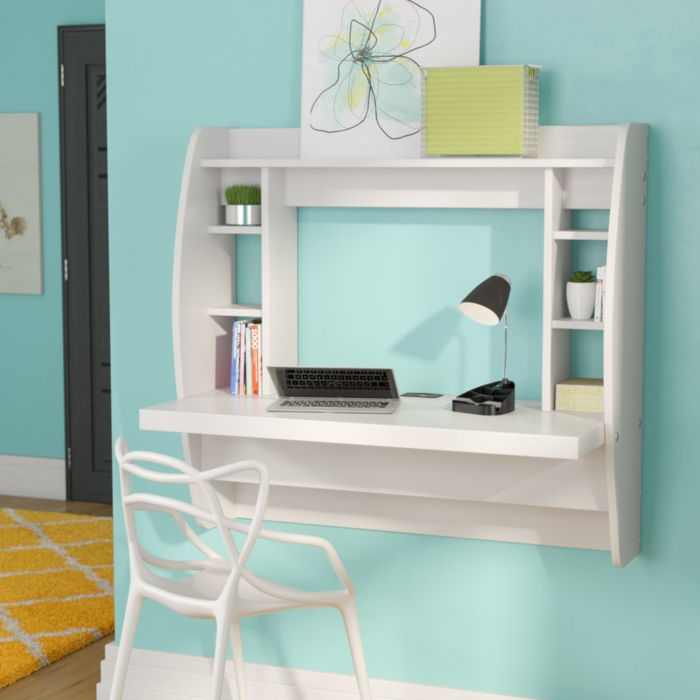 Nice clean white finish with some tiny little bookshelves on each side and a large one on top.
The space in the middle could allow for a wide monitor, but as you see in the picture this might be best suited for laptops.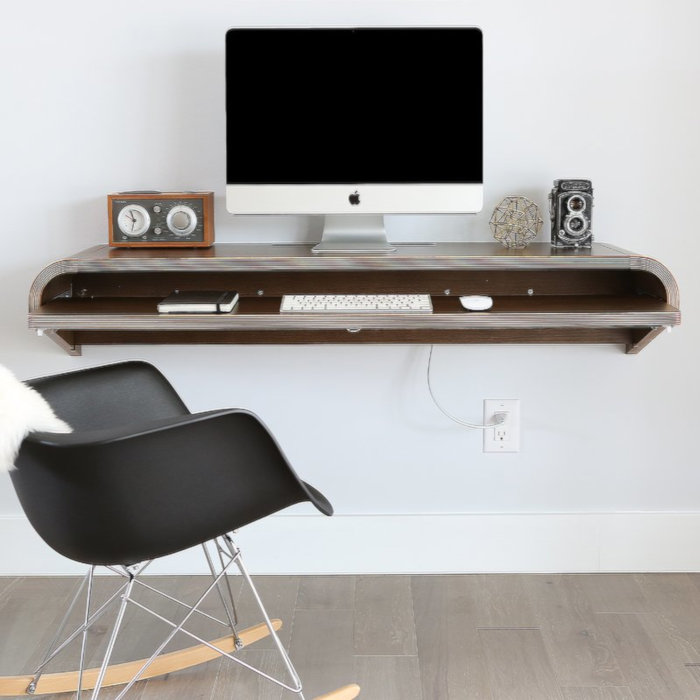 This desk with a modern wood finish can stand on its own in a room. The curved edges and keyboard tray help prop it up as a one of a kind piece of furniture.
The all-in-one iMac with wireless keyboard and mouse help keep the clean ascetic with only the power cord running down the wall to the outlet.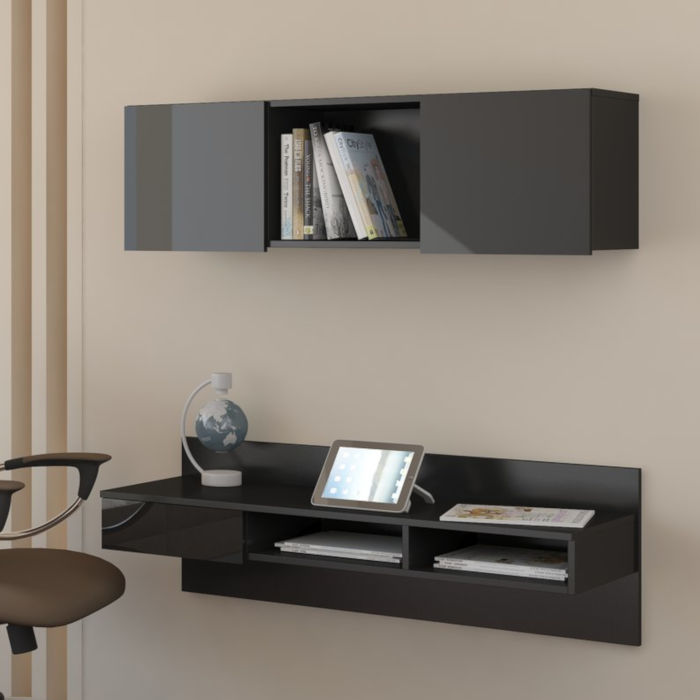 With hard line edges and boxed shapes, this is a modern floating desk if I have ever seen one.
The dark tan / brown color is nice and warm. Calming for those long hours working, or at least pretending to.
This desk is probably best suited for a laptop as there does not appear to be a great way to route cables here.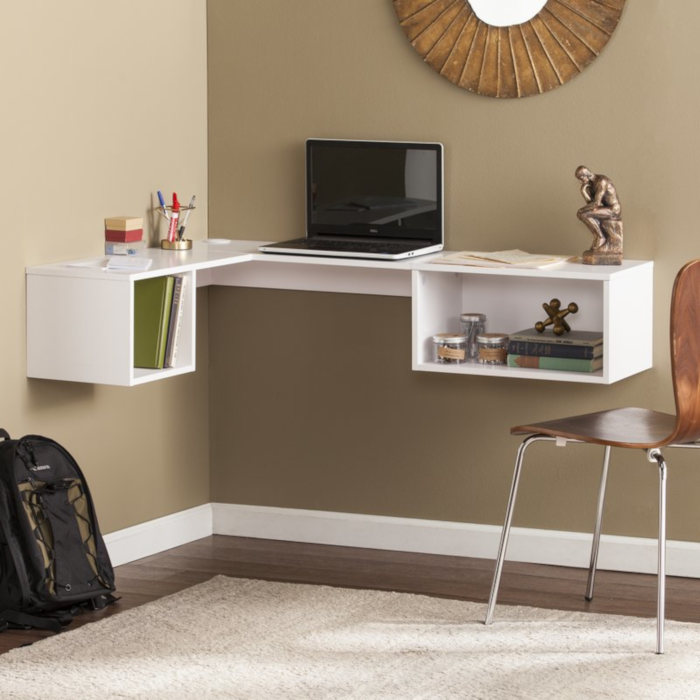 Want a corner desk that also floats?! Look no futher my friend.
Getting the desk up off the ground the in corner opens it up more visually, making the most of your space.
Do note this seems best suited for small laptop workstations.

Compact Fold-Away Floating Desks
While I would not call these compact floating desks ugly, they do not focus as much on looks. These get the job done plain and simple.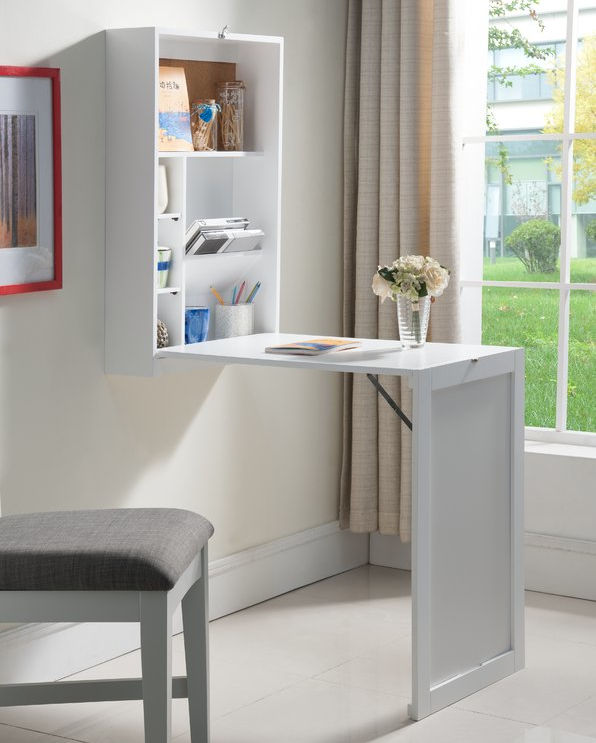 This desk can fold away and hide when it is not in use – obviously.
What makes it awesome though is the length of desk it can give you while also not making you face the wall.
This would be perfect for a tiny apartment, or even your veggie oil powered bus… if you are into that.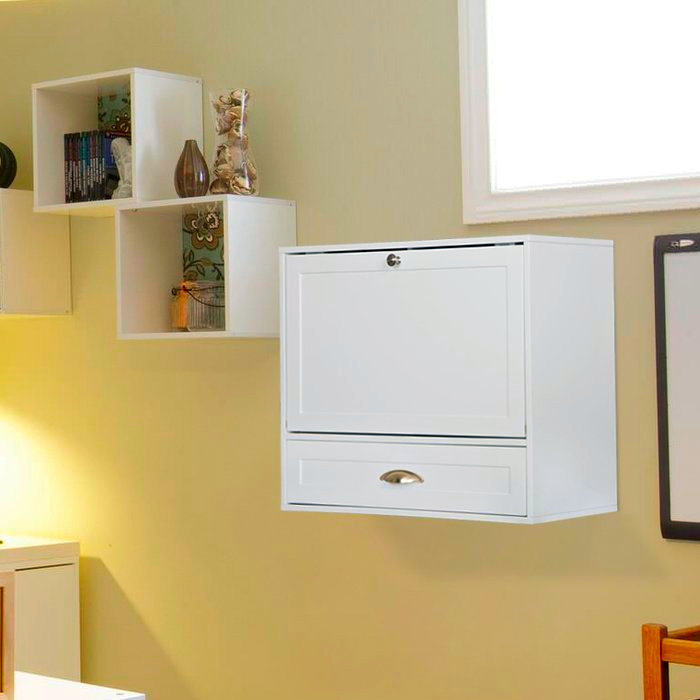 This is another nice desk that can blend into many types of styles.
Simple and to the point, yet it can still hide all your paper work and clutter when guests come over.
You may also be able to hide the fact that you still love to play Toon Town on private servers.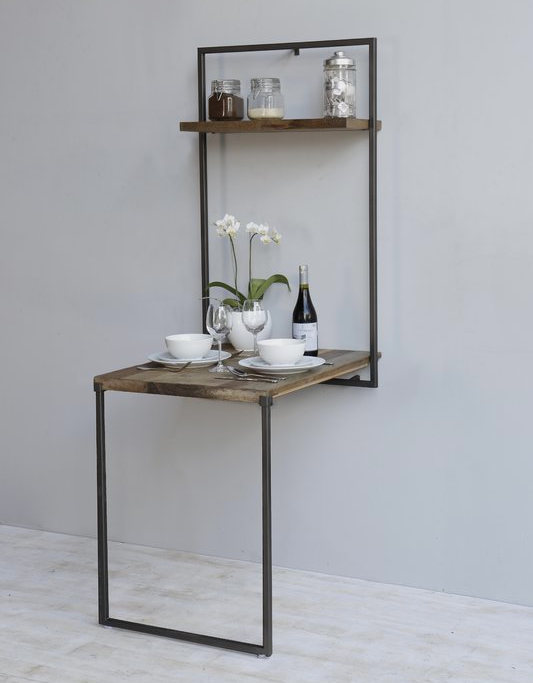 Ok so this one might still count as stylish. It certainly has a rustic look going which is warm and inviting.

That being said it still folds up though and gets out of the way.
You can also eat on it apparently.
Conclusion
These desks are great for saving space or simply just looking great. There are several options here, and I choose to leave off some of the more medial oriented options as well.
If you are into that sort of thing for some reason, let me know and I hook you up with another post. In the mean time, check out other types of computer desks.