Computer Station Nation is reader-supported.
When you buy through links on our site, we may earn an affiliate commission. Learn more.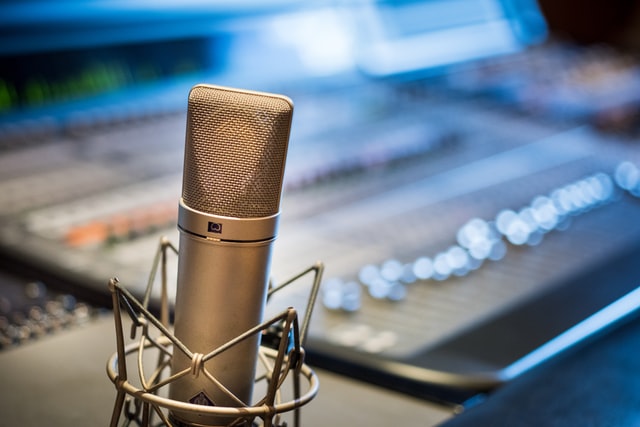 Dictating requires accurate speech recognition irrespective of the type of dictation software or dictation application that you use. Using dictation software as a speech to text converter saves time, improves your cognitive abilities, and it also eliminates the stress and rigors of a traditional typing experience. 
However, what seems like an easy task can take a different turn if you do not use the right device because, in some instances, your voice might not be easily recognized or clearly understood by the dictation software that you use.  In this case, the ultimate device that can improve your productivity is a microphone. 
Using a microphone that is engineered for dictation makes the whole process simple. It eliminates the need to raise your voice and improves fluency and accuracy with ease. It also improves your flexibility and helps you to exercise professional control over the dictation software or application.
Before you embark on your search for a microphone for dictating, you should check out our top 3  picks for the best microphones for dictating.
Our Top 3 Picks For The Best Microphone For Dictation
Philips SMP 4000
Wireless Microphone For Dictation
This microphone is ergonomically built as a comfortable handheld wireless microphone that promotes efficient productivity in well-enhanced dictation levels.
It employs exceptional speech recognition and recording quality with a built-in triple-layer noise reduction filter that ensures clear recording and accurate speech recognition results even with a distance of sixteen feet or five meters.
It is equipped with configurable control buttons that can be easily controlled through the pre-installed secured dragon move that programs the buttons and gears them for efficient productivity with Dragon speech recognition software.
It also integrates a revolutionary patented lossless speech technology for maximum mobility and an innovative dock station that provides fast charging and easy pairing between the device and multiple docking stations. 
Furthermore, the Philips SMP 4000  has a dirt-and-dust resistant touch sensor mouse that provides the user with the flexibility to change and navigate other software applications without switching between the PC mouse and the microphone.
It also features a motion sensor that can be used to control this microphone with hand movement. This integrated motion sensor promotes hands-free dictation and easy detection of when the microphone is in use or not. 
Pros and Cons
Pros
It has configurable buttons.
It has a touch sensor mouse that allows the user to easily change the dictation software.
It is built with a triple-layer noise reduction filter.
Cons
It is bulky when held.
It is a bit pricey 
Nuance Power III
Handheld Microphone For Dictation
The Nuance Power III dictation microphone is well-built with well-positioned programmable control buttons that activate commands for stop, pause, play, mute, volume control, and other personalized features that make this microphone easy to use and convenient for dictating even with a standard diction.
It uses a unidirectional sound pattern with noise-canceling technology that eliminates background noise and promotes high accuracy even in noisy environments.  
The Nuance Power III dictation microphone is highly suitable for professions that require fast and accurate high levels of speech recognition when dictating. Its features support Microsoft compatibility and PC-mouse capabilities that eliminate continuous movement between the microphone, keyboard, and mouse when working with documents.
This feature promotes the full functioning of personalized features such as automatic, frequent steps when filling out forms, writing detailed case notes, or filling reports. 
The Nuance Power III dictation microphone is compatible with various dictation software such as dragon medical, Power Scribe, Dragon Legal, and a professional group and individual dictation software. It is plug-and-play enabled, and this helps it be compatible with Windows 7,  Windows 8, Windows 10, and other higher versions. 
Pros and Cons
Pros
It has programmable buttons.
It supports PC-mouse capabilities that eliminate continuous movement between the microphone keyboard and mouse.
It has noise-canceling technology.
Cons
It does not support Citrix.
It is not compatible with Dragon Home 15.0
SoundTech GN-USB-2 
Budget-Friendly Microphone For Dictation
If you can't afford the first two dictating microphones, then this microphone should do just fine. Despite its giveaway price, the Sound Tech microphone is well designed and compatible with hands-free dictation and numerous dictator software and PC recording software, voice recognition, and internet communication. 
This microphone is built as a slim 16" long-necked arm that can be easily adjusted to the user's preference and a fairly cushioned noise-canceling microphone that uses a hyper-cardioid sound pattern that is suitable for professional voice communication.
Its noise-canceling technology and microphone frequency are designed to eliminate background noises. Simultaneously, it amplifies your voice to make it easy for the microphone to recognize your voice for accuracy and fluency while dictating. 
The SoundTech GN USB -2  Microphone has a non-skid rubber base that aids its sturdiness when placed on different surfaces. It also has an LED indicator manually powered with an on/off switch and a detachable USB A~B cable.
It is plug-and-play enabled to be  compatible with Microsoft Windows 2000, Windows XP, Windows 7 and Windows 8, Apple Mac Os9, and all OS X variations
Pros and Cons
Pros
Its height can be adjusted.
It has a non-skid rubber base.
It has an LED indicator that can be manually powered
Cons
It does not have programmable buttons.
It cannot perform advanced functions.
Conclusion
Integrate accuracy and fluency in your dictation skills by using the right microphone that is built to dutifully serve you either personally or professionally. Dictation microphones are easy to use and are available in different brand choices on Amazon.com.