Computer Station Nation is reader-supported.
When you buy through links on our site, we may earn an affiliate commission. Learn more.
Many of us sit behind a computer monitor at work for hours and hours each day doing business or at least pretending to. So why not have a nice view?
Any of these monitors are going to make for a great general work computer when it comes to features. Your choice will most likely come down to personal preference and budget.
Our Picks for The Best Computer Monitors for Work
LG 34WN80C-B 34 inch 21:9 Curved UltraWide
Features:
34" 21: 9 WQHD (3440 X 1440) Curved IPS display
USB type-C connectivity
HDR 10 compatible
Supports sRGB 99% color gamut
Height & tilt adjustable stand
On-screen control. Dimensions Without Stand (WxHxD)-32.1 x 14.1 x 3.7 inches
Curved display. Brightness:300cd (typ) ; 240cd (Min)
ViewSonic VA2719-2K-SMHD 27 Inch 1440p
Features:
GREAT FOR HOME AND OFFICE: An ideal all-around display for desktop, or laptop
SEE THE DIFFERENCE: Razor-sharp clarity and detail with 2K WQHD (2560x1440p) resolution
AMAZING AT ANY ANGLE: A slim bezel IPS panel ensures stunning views no matter your vantage point
FLEXIBLE CONNECTIVITY: The VA2719-2K-SMHD supports laptops, PCs, Macs, and POS systems with HDMI, and DisplayPort inputs
INCLUDED IN THE BOX: LCD Monitor, Power Cable, HDMI Cable, and Audio Cable
HP VH240a 23.8-inch 1080p
Features:
This Certified Refurbished product is manufacturer refurbished, shows limited or no wear, and includes all original accessories plus a 90-day limited hardware warranty.
Response Time — 5ms with overdrive for a smooth picture that looks crisp and fluid without motion blur
Built-In Speakers — Integrated audio speakers provide great sound for your content (2 watts per channel)
Thin Bezel-Less Frame — A thin and virtually frameless ultra-widescreen monitor provides a seamless multi-monitor set-up with 3-sided narrow bezels
Work Monitor Frequent Questions
What is the best monitor for reading documents?
The best monitor to read documents on is going to be the same one that is the best for your eyes. It should have:
A high resolution
A good even brightness
With these two things and the right color settings to prevent strain on your eyes, you should be good to go.
Is LED or LCD better for your eyes?
LED backlit monitors are going to be better for your eyes than the back light tubes of yesteryear. Almost all monitors you buy these days are going to be LED backlit. You can read more on that here
What is the best size computer monitor?
The best size of computer monitor is going to depend on your situation. Most monitors are between 21″ inches and 24″ inches and are in a widescreen format.
Is a curved monitor good for office work?
A curved monitor is supposed to be immersive. So if you are looking to get immersed in those spreadsheets, then here you go!
In all seriousness, a curved monitor is probably going to be overkill for office work, but you may find it helpful depending on your situation.
Is a curved monitor good for Excel?
Whether you are using Microsoft Excel or any other spreadsheet software, a curved monitor can help you get immersed in your work. It may come down to personal taste in the end
Is a curved monitor good for programming?
A curved monitor can provide you with another level of immersion when it comes to programing. However, this really may come down to personal preference as to whether or not you think it is better than a flat panel monitor.
What is the best 4k monitor for programming?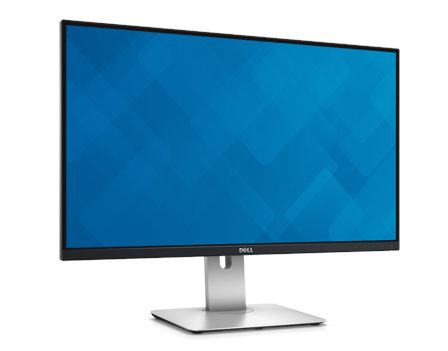 There are many options for a great 4k monitor to program on, but one of the best is probably the Dell UltraSharp U2715H 27-Inch Monitor.
Are dual monitors good for programming?
This is another question that will vary depending on who you ask. Traditionally dual monitors have been seen as a must have for "increased productivity" by many. Now that UltraWide monitors exist, many are opting for one UltraWide rather than two regular monitors.
Is a 144hz monitor good for programming?
While you will notice everything looks very smooth on a 144hz monitor, when it comes to programing it won't make a big difference. Rather, you should look at going with a higher resolution monitor.
Conclusion
There are a lot of great monitors for work. Be sure to treat your eyes right and find something that will make your day more pleasant – even if it is just getting immersed in your spreadsheets.
If you are looking for more detailed information on all this, then check out the main page on computer monitors.