Computer Station Nation is reader-supported.
When you buy through links on our site, we may earn an affiliate commission. Learn more.
Ah, the wonderful world of sitting in front of a glowing screen all day!
Jokes aside, monitors can make an enormous difference in your computer station. Whether you are a spreadsheet hero, or a professional gamer, there are gains to be had.
This article is a compilation of the top ten best-selling computer monitors on Amazon, and it aims to serve as a guide to formulating a well-informed purchase decision.
Our Top 10 Picks For The Best Computer Monitors
HP 24mh FHD Monitor
1080P Computer Monitor
The HP 24mh FHD Monitor is built with IPS technology that employs a 1080p resolution, a 75Hz refresh rate, and a wide 178° viewing angle to display brilliant visuals with impeccable picture quality. It utilizes a low blue light technology that makes it suitable to use for long working hours without harming your eyes.
It is compatible with PCs and consoles via its highly functional HDMI port and display ports. It also features built-in 2W speakers and a VESA wall mount pattern that offers the flexibility of mounting on the wall to save desk space.
It has thin bezels and an adjustable stand that allows for tilt and height adjustment. Its size is highly suitable for different purposes. It has a one-year warranty and many positive reviews, and this is no wonder as it is ranked first place among the best selling computer monitors on Amazon.
Acer SB220Qbi
Compact Computer Monitor
The Acer 21.5" monitor is built with skinny (0.24") bezels that employ a wide viewing angle with an advanced liquid crystal formula in its IPS technology for accurate color representation in pictures. It employs a 1080p resolution, a 4ms response time, a 75Hz refresh rate, and 250 nits of brightness, making the images clear and well detailed.
It is equipped with HDMI and VGA ports, a tilt stand, and a Kensington security slot that protects the computer monitor from theft. Although this computer is not VESA compatible, its size does not take a lot of desk space, making it suitable for use in schools, homes, and small offices.
Sceptre E205W-16003R
75Hz Computer Monitor
The Sceptre 20" monitor is equipped with 250 nits of brightness, a 5ms response time, and a 75Hz refresh rate for a smooth transition of pixels during games or videos.
This monitor features two HDMI ports, a DVI port, and a VGA port that makes it easy to connect with different video and gaming devices. It also features built-in speakers and a VESA wall mount compatibility. Although it's resolution is low, it's pictures are still clear and suitable for work and entertainment.
Hp VH240a
Bezel-Less Computer Monitor
If your eyes are for a moderately sized monitor that employs plug-and-play compatibility with Windows, and Macs, then this energy star certified monitor that is ranked as the fourth best selling monitor on Amazon is your best buy.
This 23.8" monitor employs a 1080p resolution, a bezel-less screen with an anti-glare matte IPS screen that employs 16.7 million colors, 250 nits of brightness, a 16:9 aspect ratio, and a 178° viewing angle to display stunning and immersive visuals within a 5ms response time.
Its functionality is sustained by an HDMI port, a VGA port, an HDMI port with HDCP support for laptop and multi-monitor setups, built-in speakers, an ergonomic stand that allows for rotation, tilt, and height adjustment, VESA compatibility, and a one-year limited warranty.
Sceptre C275W-1920RN
1800R Computer Monitor
Ranked as the 5th best selling computer monitor on Amazon, the Sceptre 24" monitor has earned its place with its excellent features that include a 1080p resolution, a 75Hz refresh rate, a 178° viewing angle, a blue light shift mode, and a fast response time that reduces ghosting and blurring while transitioning pixels.
It is built with a 1800R screen curvature that makes the images immersive and comfortable for your eyes. This feature is complemented by its tilt stand and VESA wall mount pattern that offers the freedom to choose a preferred viewing position for the monitor while eliminating cable clutter and saving valuable desk space.
It features built-in speakers and highly functional input ports, including a VGA port and an HDMI port that provides a visual edge for easy transitioning of videos via external sources.
LG 27GL83A-B
Freesync Technology Computer Monitor
This monitor integrates Freesync technology and G-sync compatibility, which is geared towards the production of a seamless and smooth pixel transition in high resolution and fast-paced games, by ensuring that the visuals are void of screen tear, motion lag, blur, and stutter for visual fluidity when gaming.
It employs a 144Hz refresh rate and a 1ms response time that displays visuals with a 1440p resolution, sRGB 99%, and HDR 10 for a perfect picture contrast on its 3-side borderless screen. It is built with several highly functional game-centric features and an ergonomic stand that allows for tilt, height adjustment, and pivot.
Dell SE2719H
178 Degree Angle View Computer Monitor
The 178° viewing angle and ultra-thin borders that frame it's anti-glare screen provide a comfortable viewing experience when viewed from any angle.
It employs a 1080p resolution that functions with anti-flickers and Dell's comfort view technology that eliminates harmful blue light for the protection of your eyes.
Its visuals are transmitted at a 60Hz refresh rate and a fast response time ( 8ms (GtG normal) and 5ms ( GtG fast) that promotes an unprecedented level of smoothness and fluidity in games and videos.
It further integrates Dell Easy Arrange, a brilliant technology that is designed for easy multitasking and navigation between different applications and Windows, an HDMI port, a VGA port, and a built-in power connector that helps reduce cable clutter since this monitor does not have a VESA mount pattern.
LG 24M47VQ
Split Technology Computer Monitor
With a 2ms fast response time, 250 nits of brightness, and a 1080p full HD resolution, this energy star certified 24" monitor is built to deliver visual fluidity and excellent clarity in games and videos.
It features a screen split technology that promotes easy multitasking with a simultaneous view of four customizable windows. This monitor also employs a dimming technology that effectively minimizes flicker and a reader mode designed to reduce blue light when activated at the touch of a button, making this monitor suitable for long hours of use.
AOC C24G1
Curved Computer Monitor
Curved monitors employ a unique sense of comfort that makes viewing pleasurable and immersive and this monitor employs all these benefits in its flicker-free three-sided borderless 1500R curved screen that is built with a stand that allows for height adjustment, swivel, and tilt functions.
The Acer C24G1 computer monitor utilizes a 1080p resolution to display images with further assistance from a 144Hz refresh rate, low blue mode technology, and AMD FreeSync technology that prevents stuttering and screen tear while the images are being transitioned within a1ms response time.
This monitor is further equipped with a VGA port, a display port and two HDMI ports plus it is backed by different warranties that covers replacement for faulty features, and accidental damage.
Acer R240HY
60Hz Computer Monitor
This Acer 23.8 monitor is built with a frameless design and it uses a 1080p resolution, 250 nits of brightness and a 178° viewing angle to display pictures that are clear and immersive. Its visuals are flicker free and are transitioned with a 60Hz refresh rate and a 4ms response time
This monitor features the Acer EcoDisplay design that ensures that this monitor is energy-friendly. Its functions are supported by a VGA port, a DVI port, an HDMI port, and an ergonomic stand that tilts from -5° to 15°
Things to Consider
The first thing to consider when looking for the best computer monitor is what you will be using it for.
If it is specifically a gaming monitor you after, then check out our guide to the best computer monitors for gaming. However, if you are after the a more well rounded monitor then stick around!
Other things to consider when Monitor Hunting:
Screen Size
Resolution
Panel Type
Input Lag
Price
Glossy VS Matte
Additional Features
Monitor Screen Size
The size of your monitor is probably one of the biggest things to consider. One of the most common sizes today is going to be a 24″ widescreen monitor. It is big enough to give plenty of working space without being hard to view sitting 2-3 feet away from it.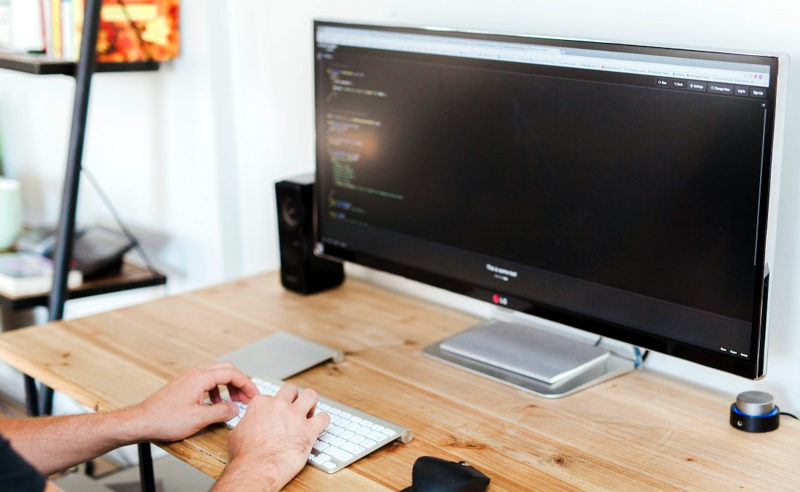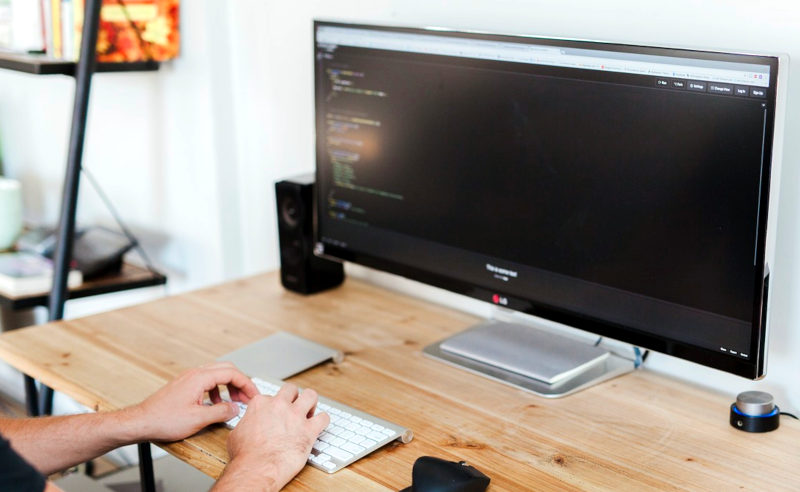 Monitor Resolution
The resolution of your monitor is another thing to consider. With all the marketing hype around 4k displays, you may think this is certainly the way to go, think of all the pixels!
However, you may be just as happy with a monitor with a resolution of 1440p or even 1080p depending on your needs. If you are able to compare the two in person please do so.
From the distance you will be sitting away from your monitor, chances are you will be quite happy with 1440p for most all use cases.
If you do decide that a 4k display is for you, do keep in mind that a 4k monitor will be more demanding on your graphics card so be sure your machine can provide the resources needed. This is especially true if you plan on playing any games on it.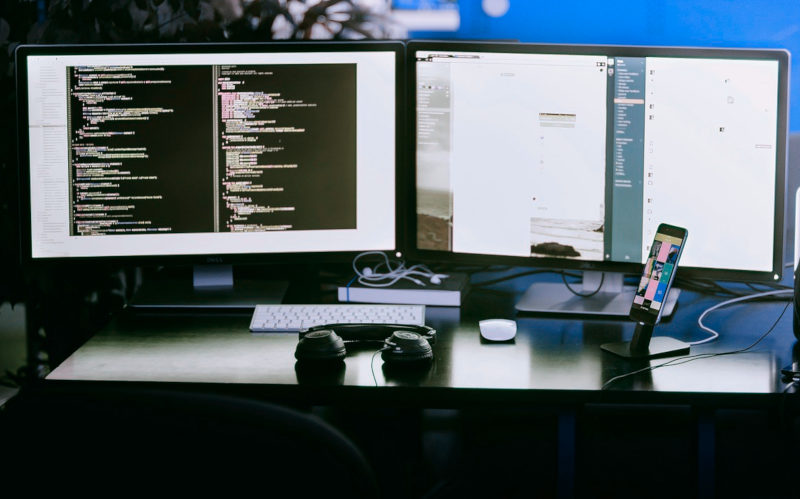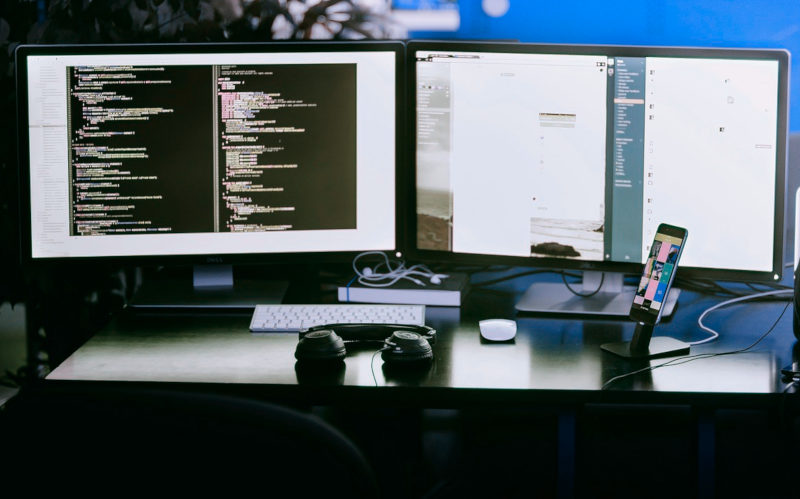 Monitor Panel Type
The type of panel a monitor uses is not something that is talked about very often, but it can make a big difference in your viewing experience. There are several types of panels used in Desktop Monitors:
TN – Twisted Nematic
VA – Vertical Alignment
PVA – Patterned Vertical Alignment
S-PVA – Super PVA
MVA – Multi-Domain Vertical Alignment
IPS – In-Plane Switching
The two most common you will read about are TN and ISP panels.
TN panels are the most common, and do a good job. They are known for their poor view angels though.
I have 3 of TN panel monitors right now and if I move my head even a small bit side to side I will see the monitor get a bit darker in color due to my view angel.
It is worth noting that VA panel monitors will do a slightly better job of the view angel issue, but no where near as good as IPS panels.
IPS panel monitors currently offer the best viewing angles you can get – and they look fantastic.
Monitor Input Lag
While this may sound like something that only you only need to worry about if you are playing games, it can affect everyday use as well.
Input lag is something that is not readily advertised. Instead, marketers focus on response time. This is a good metric to measure how fast a pixel changes from grey to grey on your screen, but not how long it takes between a button press and it showing on your screen.
In reality you will probably be ok with most monitors these days, but once you start looking toward TV-like displays or very cheap and random monitor brands it is something to consider looking into.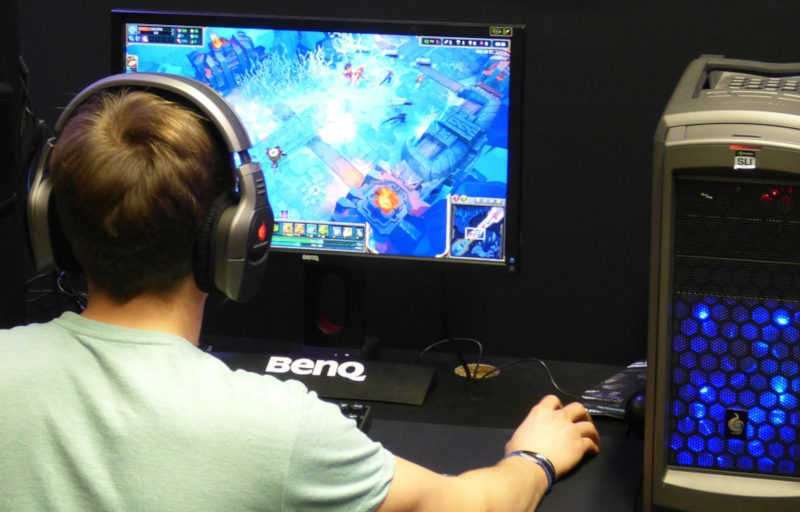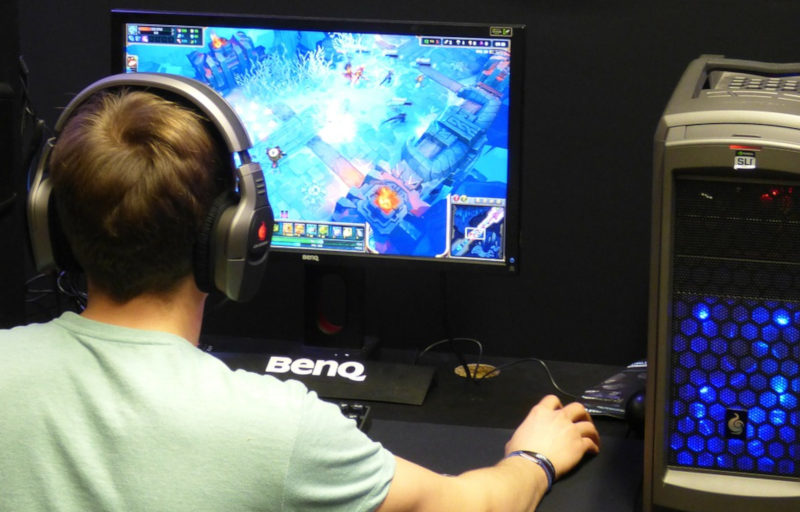 Monitor Price
Ah, one of the biggest things to consider when shopping for a monitor is the cost. This can be especially true if you are after a multi-monitor setup.
Most monitors cost between $100 – $200, but there are some above and some below.
A few things to think about here when looking at the price of a monitor:
Will I be using this monitor everyday?
How long do I expect to use this monitor?
Will I be using this monitor for work?
Will I be using this monitor for gaming?
Does the monitor have good reviews?
With those questions answered, you should take a look at your budget and feel good about your purchase.
Glossy VS Matte
It is like the battle royale of the century. Would you rather have glares off of every light, or dull lifeless colors?
Ok, really it is not that bad, but it is something to think about.
Glares on a glossy screen can be a huge annoyance. Since most people don't move their monitor around so much, that may not be as big a deal.
Matte screens though may not offer the same vivid a color appearance.
Both are great in their own way, but I personally prefer Matte.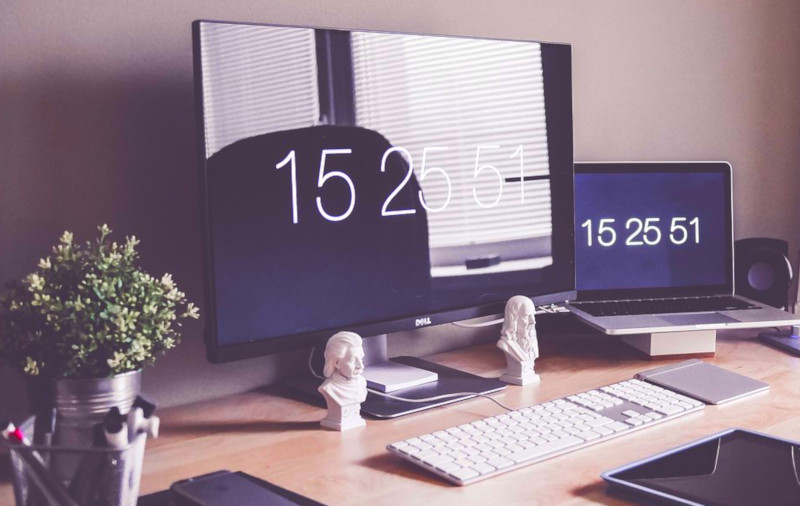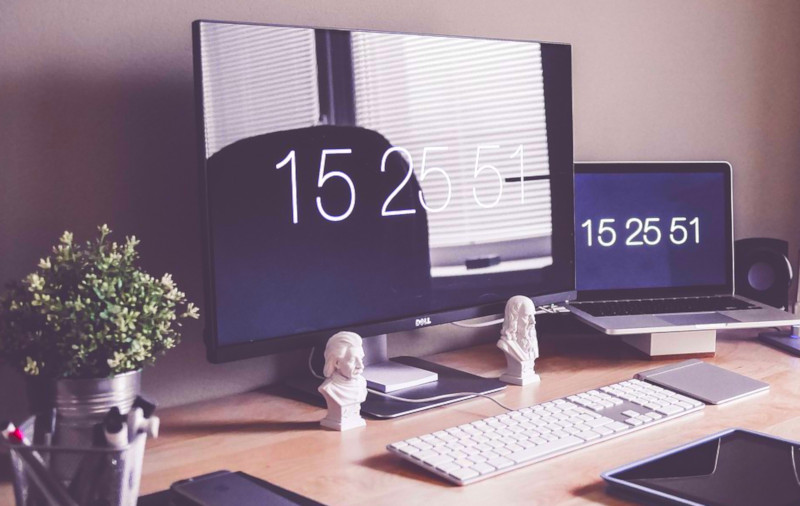 Additional Monitor Features
What more could you want from a monitor other than to display things? Well, there are a few things that might improve your computer setup.
Built-in Speakers – Though more often than not these do not produce a good sound quality that people enjoy.
Built-in USB Ports – These can be useful for plugging things right in depending on your setup.
Embedded Camera – This is more common to see on laptop screens, but you can find them on desktop monitors as well.
Picture-In-Picture – This will allow you to feature more than one source / input on the screen at a time. Samsung calls this Picture-By-Picture. Be sure to read all the details on how this feature works if you are really after it.
Adjustable Stand – This will allow for viewing your monitor at the right angle or setting the right height for your best ergonomic posture.
Built-in Card Reader – This might be more popular for the photographer type, but not having extra card readers on your desk would certainly be a plus.
Common Monitor Questions
What is the most common monitor size?
The most common monitor size would probably fall between 22″-24″.
What is the most common screen size?
The most common monitor screen size currently is 1920×1080 – Full HD.
Can I use a TV as a computer monitor?
Yes, you can use a TV as computer monitor. However, it could have a much slower response time than you are looking for, and could be hard to use for most tasks.
Conclusion
The selected monitors are very affordable, and they are arranged according to their rank as the best-selling computers on Amazon. You can also search for more best selling computer monitors on the leading and most reliable shopping platform; Amazon.com.
Other Monitor posts