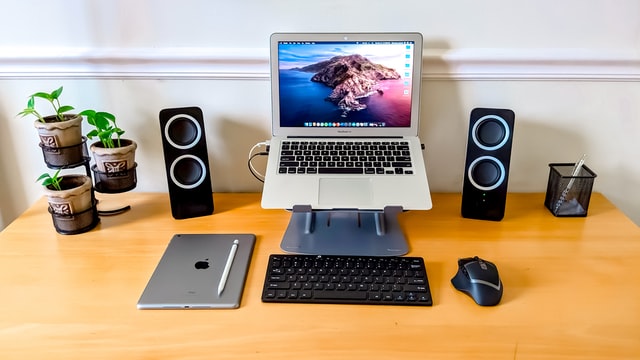 In most situations, the speakers integrated into our computer are of very poor quality, and this makes the sounds produced with such speakers to be unclear, and not good enough for games, music, or videos. 
The best and only one-time solution to fix this is to use an external computer speaker. These speakers are well-built with high-quality materials, and great features that produce outstanding sound quality. The sounds are well filtered, loud, clear, and rich in bass quality to produce an immersive digital audio experience. 
Selecting the best computer speakers can be tenacious
There are numerous computer speakers, and finding the best one can be a Herculean task if you do not have any proper guidance. This article is a collection of the best computer speakers in the market, and it aims to serve as a guide in making a purchase decision.
The selected speakers are highly ranked among computer Speakers and are produced by manufacturers that spare nothing to ensure that you get the best sounds for your games, videos, and music.
Our Top Picks For The Best Computer Speakers
Elegiant
Elegiant SR400
Elegiant is renowned for its excellent customer service, and the innovative designs of their computer speakers and this speaker is one of their many products that is beautifully designed with four LED light modes to produce rich sounds. It has a detachable design that makes it suitable for use as a soundbar and a stereo system. 
Typical of several Elegiant computer speakers, this particular computer speaker uses a 2.0 sound system and is equipped with two bass cones and an anti-noise technology that delivers rich, and excellent sound quality. 
 This Elegiant computer speaker supports wired and wireless connection via a Bluetooth mode and it is compatible with tablets, notebooks, TVs, MP3, MP4, and microphone/headset via a 3.5mm audio port. 
TaoTronics
Taotronics TT-SK027
Taotronics has carved its name in the minds of a lot of gamers with the features integrated into their speakers, and this computer speaker has a lot of positive reviews that certifies their excellent digital audio sound performance. 
This computer speaker is built as a Soundbar, and equipped with two drivers that employ seven watts of power to produce great sounds. It is also equipped with built-in timers that allow its users to record gaming sessions.
 This Taotronics computer speaker features Bluetooth 5.0 technology that helps it to function wirelessly and a 3.5mm auxiliary port that connects it with compatible devices.
Creative
Creative Pebble Plus
Honored by PC Mag as the best computer speaker of 2018, the Creative pebble plus computer speaker is built with a long-lasting battery and other great features that support the excellent sound quality produced on its dual speakers. 
This computer speaker features two mid-range drivers that are set at a 45° angle, and strongly supported by a subwoofer that promotes the sound quality produced on this computer speaker. It also features a high gain mode that increases the power output to 8 W RMS forms stringer bass quality. 
As a common feature among creative speakers, this speaker is powered by connecting a USB cord to its input channel. It is also compatible with devices that function via a 3.5mm audio port. 
Bose
Bose Companion 2 Series III
This computer speaker is the most affordable Bose Computer Speaker and despite the price cut, its sound quality is outstanding and immersive, making it a suitable choice for games, videos, and music.  
This speaker has a sleek appearance and fits perfectly into any working or gaming station. It uses plug-and-play compatibility to function with devices that have a 3.5mm audio port for clear, rich, and bass-filled sounds.
Cyber Acoustics
Cyber Acoustics PC Speaker
This computer speaker is built with color-changing LED lights to set the perfect mood for your games, music, and videos. Its dual speaker system employs a subwoofer and a 2.2 surround sound that produces loud and clear sounds with rich bass quality.
  It is easy to operate will all the controls well positioned on the subwoofer for easy access. This product is sturdy, durable, functional, and has a one-year hassle-free manufacturer warranty. 
Edifier
Edifier G200
Most of the speakers produced by Edifier are built in the form of a portable box with EQ modes that can be easily alternated. The speakers usually support Bluetooth 4.2  wireless mode, a wired mode, and an auxiliary connection.
 All these features and more are integrated into the design of the Edifier G200  computer speaker to produce sound with rich bass quality. This computer speaker features a built-in professional sound chip that is made of fine EQ data to easily alternate between EQ modes. It has 32 watts drivers and 12 RGB lights and a Hi-Fi 85" full frequency unit. 
Razer
Razer Nommo Chroma
Razer is renowned for its game-centered gadgets that mostly feature beautiful lighting effects that complement your gaming desk or workstation and this computer gaming speaker is not an exception. 
The Razer Nommo Chroma is
 built to produce sounds that are highly suitable for games, videos, and music with the aid of  2.0 surround sound drivers, and two rear facing bass ports that produce excellent sounds with rich bass quality. It also features custom three inches woven glass fiber drivers that employ higher frequencies to produce rich, and clear sounds that are thrilling and immersive.
Logitech
Logitech G560
Logitech is a household name that is renowned for making a mark on different aspects of computer devices, and this computer speaker is not an exception.  Several Logitech products are powered by a distinct Logitech software and as such, this computer speaker is powered by Logitech light sync technology that makes it easy to customize the lighting zones with over 16.8 million colors. 
It is built with a 2.1 Speaker system, and an ultra surround system that produces 3D positional sounds that can be heard from any angle.  It also features high-end sound drivers with 240 watts and a subwoofer with two satellites for an outstanding audio experience.
Audio Engine
Audioengine A2+
This big and thick-framed speaker is designed to produce rich stereo sounds.
It is constructed with custom audio engine components that include aramid fiber woofers, silk tweeters, and built-in power amps that make it compatible with laptops, desktop computers, notebooks, and TVs with an analog output. Its large size and features also make it suitable for a mini home theatre.
It uses both wired and wireless connections and it features dual analog power amplifiers that make the sounds clear, loud, and immersive. 
The Audio Engine company pledges full support to its users through friendly and well-informed customer service, plus, this computer speaker is backed by a 3-year transferrable warranty.
Sanyun
Sanyun SW102
Although this company does not have a lot of computer speakers that are credited to its name, it has done immensely well with this product and has earned a good among the top 20 computer speakers.  
This dual computer speaker is made of metal and high-quality plastics. It uses a low voltage and 5 watts of power on each speaker. It also features a built-in bass diaphragm, and low frequency to provide strong bass as well as an acoustic resonator structure that uses an enclosed low-frequency aid design that makes the sounds rich and loud. This product functions via a plug-and-play mode and it has a one year warranty.
JBL 
JBL PC Speaker 
JBL has produced a good number of computer speakers that have excellent sound quality. Most of their speakers are compact sized, and easily portable with distinct features that contribute to their rich bass quality, making them very suitable for playing games, videos, and music on the computer. 
The JBL 104 computer speaker is designed with 4.5-inch low-frequency drivers, 75-inch dome tweeters, and 60-watt amplification on both speakers to provide exceptional sound imaging, natural frequency response, and clear audios. 
This computer speaker has a front-panel headphone jack that is designed with an automatic mute system for the speakers and three input ports that allows for easy connection with professional equipment, personal music players, and other auxiliary devices 
Vipex
Vipex Bluetooth Speakers
This computer speaker produces by Vipex is built to function via Bluetooth 5.0 technology and wires.  It has a control wheel by its side and two 5W sound drivers that produce sounds that are loud and clear 
It has a slim design that makes it a portable option for any gaming or working station. It is also wall-mountable and works with any device that has a standard 3.35mm audio port. 
Pyle USA
Hi-Fi Computer Speaker
Pyle is also another top manufacturer of highly functional and durable computer speakers. This Hi-Fi computer speaker produced by Pyle has a home stereo computer system that produces loud and clear sounds with rich bass quality. 
 This dual computer speaker employs a maximum power output of 300 Watts and a 5.25 sound driver that filters the sound for an immersive audio experience. It uses Bluetooth 4.0 technology to pair with enabled devices. It has a tasteful appearance and it is very sturdy. 
HT Rise
HT Rise PC Speakers
Using bright and Colorful RGB lights in most of their computer speakers, HT Rise has made a good mark as it concerns portable and easily affordable computer speakers. Their products are made from high-quality and durable materials that prevent moisture and dust from settling on them.   
This HT Rise computer Speaker has a beautiful design and produces clear acoustics with a strong bass presence in its sounds. It also integrates a smart chip that makes the sounds highly suitable for games, videos, and music.
This HT Rise computer Speaker uses plug-and-play compatibility to function with devices that have a 3.5mm audio port.
Klipsch
Klipsch Pro Media
If you're a fan of big speakers, then you have to be a fan of Klipsch Pro Media. Its three-piece speakers use a 130-watt subwoofer to produce premium sound quality that Is highly suitable for games, music, and videos.
It uses a 2.1 surround sound and two stereo analog inputs to create a hassle-free wired connection, and also to easily accommodate a portable audio device such as an MP3 or music player. This computer speaker also features a 200-watt digital hybrid amplifier that makes the sound louder and clearer. 
Conclusion
Speakers are designed to improve our digital audio experience with their thrilling and immersive features.
I hope that the contents of this article become very helpful in choosing from the numerous computer speakers that are currently available.
Other Speaker posts