Computer Station Nation is reader-supported.
When you buy through links on our site, we may earn an affiliate commission. Learn more.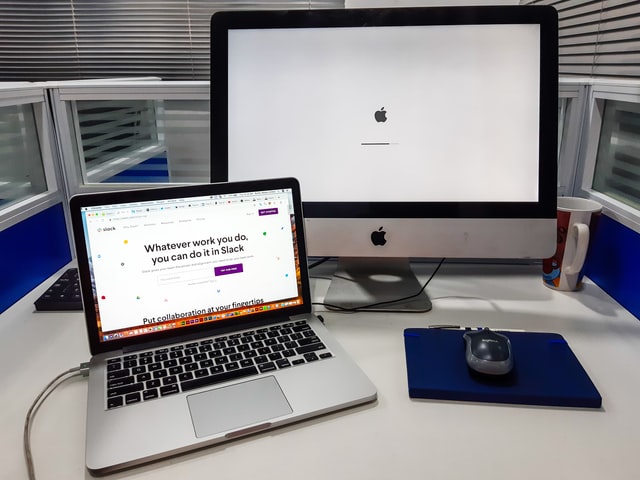 All-in-one computers are gradually gaining popularity due to their simplistic, and minimalistic design. Unlike the traditional tower and computer, this computer integrates all the necessary features for a smooth workflow into its monitor, and this makes it easy to use, set up, and maintain without taking up too much space. 
All in one means a one-stop destination for your work needs.
Apart from being stylish, all-in-one computers are a great choice for presenting a less cluttered workspace, plus they are space-saving, and mostly favorable in price when compared to buying a monitor, and a tower separately. These features make it ideal for use at work, school, and home.
Our Top 3 Picks For The Best All In One Computers
Apple iMac All In One Computer
27″ with MacOS
It is no wonder that Apple made it to our choice since they're the first to integrate such a design into their computers. 
The Apple iMac is a 27-inch computer monitor with a Nano edge textured glass that is designed to reduce glare while displaying sharp images with 500 nits of brightness, and a well-defined contrast ratio for a realistic display of pictures. 
It functions with a 10th generation intel core i5 processor with up to 3.1 GHz 6 core turbo boost and an amazing 128Gb memory that has ample storage space to easily navigate high definition applications such as editing ultra high definition videos and developing a realistic game environment. 
This computer uses a 5k retina display with one billion colors and 500 nits of brightness to display sharp and excellent picture quality. 
Peculiar to all computers with an iMac model, this computer employs an ultra-fast SSD storage that ensures high capacity, and speed in handling heavy-duty files. It also employs a magic keyboard and a highly responsive magic mouse that is designed to improve productivity with ease.
The Apple iMac features two thunderbolt 3 USB C ports, four USB A ports, Bluetooth 5.0 wireless connection, 1Gb Ethernet port that can be configured to a 10Gb Ethernet port, 802.11ac Wi-Fi, a 1080P facetime HD camera with face detection, and an enhanced studio-quality mic.  
Pros and Cons
Pros
It has a high storage capacity.
It functions on a 10th generation intel core.
It uses a 5k retina display
Cons
It is expensive.
It does not have a media drive.
Lenovo IdeaPad All In One Computer
24″ with Windows
You can also get stylish with the Lenovo all-in-one Computer that is engineered to effectively handle high-end applications with ease. It is built with a 16Gb of DDR4 RAM and a 512 SSD that functions on a Windows 10 operating system that is designed to provide ample storage and smooth operation of heavy-duty files. 
This computer also boasts of AMD Ryzen 5 4500U technology and an Intel Core i7 processor that makes it suitable for multitasking, and high demanding workloads. Its borderless 23.8 inches screen employs a resolution of 1080P and a ninety percent screen to body ratio, plus its display can also be adjusted to reduce light reflections.
Furthermore, this sleek all-in-one computer is built with a stylish stand that has a cable connector built into its base with ports for connecting auxiliary devices such as smartphones, digital cameras, and other devices to the computer.
This computer also has a webcam that is designed with a privacy shutter that can be easily activated at the touch of a button, an HDMI port, a 3-in-one card reader, and USB 2.1 and 3.0 ports. 
The Lenovo Ideapad AIO 3 is built with high-end features that make it suitable for use in schools, home, work, and any environment that requires a reliable working desktop windows computer. 
Pros and Cons
Pros
It has 16GB RAM and 512 SSD.
It has a lot of input ports.
It uses AMD Ryzen
Cons
It does not have a speaker.
It has no media drive.
Aspire C27-962-UA91 All In One Computer
27″ with Windows
Built with a 10th generation intel core i5 103G1 processor ( with Turbo boost technology up to 3.6GHz) and Nvidia GeForce MX130 with 2Gb of dedicated GDDR5 VRAM, 12Gb DDR4 memory, and a 512GB NVMe M.2SSD that functions on a Windows 10 Home operating system,
This computer delivers performance, connectivity, and entertainment while providing a friendly and easy to use interface that supports smooth workflow and easy multi-tasking. 
The Acer Aspire 27 inches monitor uses a 1080p resolution, and an edge to edge LED-backlit screen to display images. Its images are stunning, clear, well-detailed, and feature a 178°  viewing angle that is immersive when viewed from any angle.
The Acer Aspire 27 inches monitor features an HD webcam with privacy shutter,  two built-in stereo speakers, two USB Type-A (3.2) ports, two USB 2.0 ports, an HDMI port, a 10/100/1000 Gigabit Ethernet,  802.11ac Wi-Fi, Bluetooth 5.0, and a wireless keyboard, and mouse.
Pros and Cons
Pros
It uses a Windows 10 operating system.
It has a 12Gb RAM and 512 SSD.
It has a webcam and a privacy shutter.
Cons
It is not VESA compatible. 
Its speakers are not loud.
Conclusion
All-in-one computers are not the newest improvement on computers but they're gaining ground in terms of simplicity, style, price, and space-saving features.
I hope that the contents of this article were helpful and helped to fund your search for all in one computer. However, if you're will still want to check for more options, you can find them on Amazon.com