Computer Station Nation is reader-supported.
When you buy through links on our site, we may earn an affiliate commission. Learn more.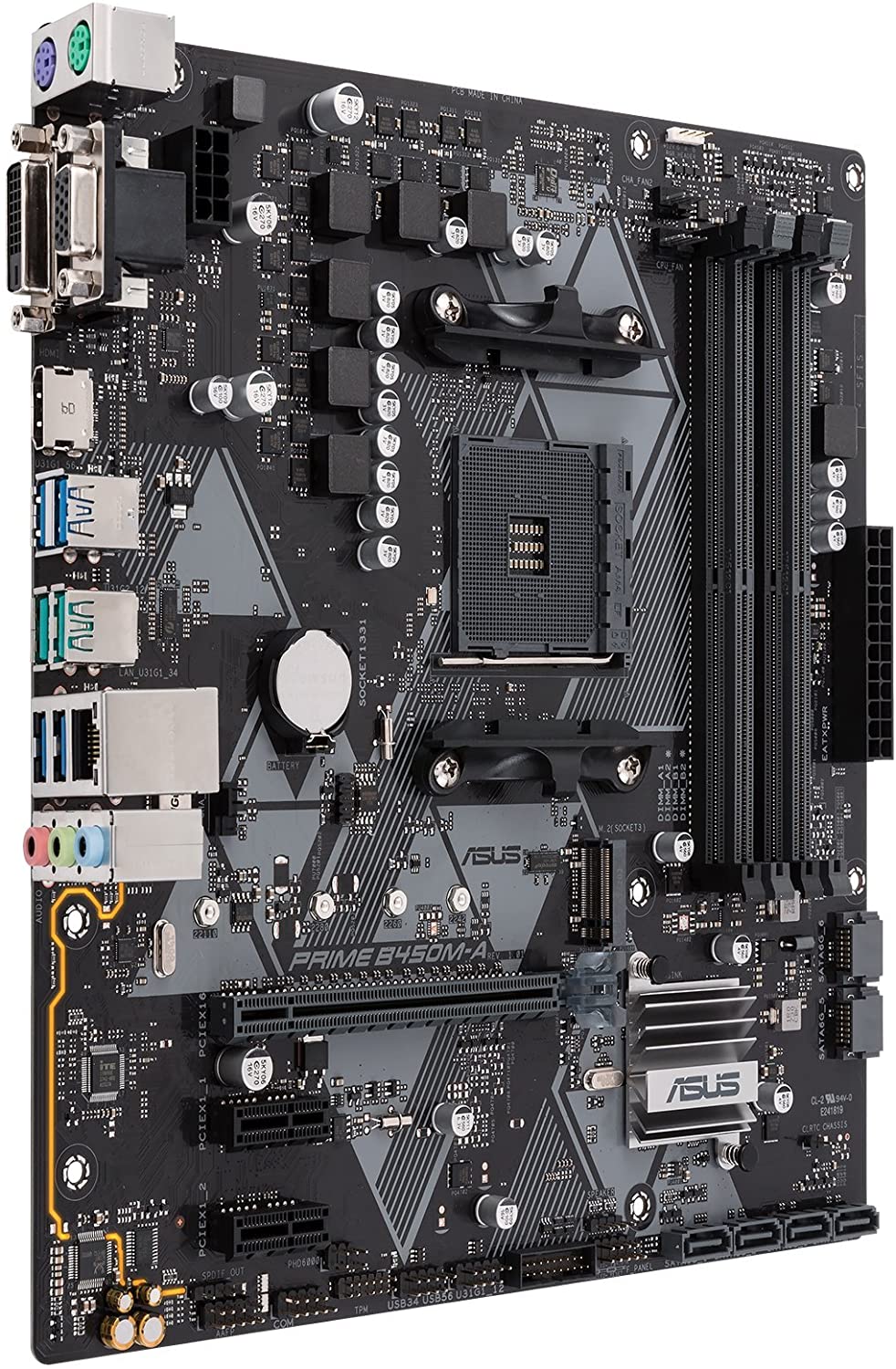 You might have made an impressive and commendable choice for your graphics cards, processor, gaming memory, and other hardware components when building your gaming rig, so you should get a thumbs up. 
Your choice of a gaming motherboard is of the utmost essence because it determines how well other components will function. I must confess, shopping for a gaming motherboard is not fun at all, especially when you're doing so with a budget in mind.
To help make things a lot easier, here are the best 3 cheap motherboards for gaming that are very affordable, with excellent performance. 
Our Top 3 Picks For The Best Cheap Motherboards For Gaming 
Asus ROG STRIX B450-F GAMING II
M.2 HeatSink Motherboard For Gaming
The ASUS ROG B450-F gaming motherboard is an ATX motherboard that uses 3rd generation AMD Ryzen processors that are designed to provide an ultimate gaming experience coupled with its firm structure that includes a safe slot, LEDs, BIOS Flashback, and a built-in auxiliary shield. 
This gaming motherboard supports Intel Gigabit Ethernet with ASUS LANguard and M.2 socket with E-key, an AI noise-canceling microphone, sonic studio III, supreme FX S12220A Codec, and Asus Aura Sync RGB lighting. 
The processor and the other components of this motherboard are digitally powered by multiple discrete MOS that have long-lasting capacitors and high-quality alloy chokes. All the Asus ROG STRIX B450-F gaming motherboard features are further heightened with the user-friendly UEFI BIOS and ASUS AI networking software that makes gaming configuration a walk in the park.
Despite all these powerful components built into this gaming motherboard for a remarkable gaming experience, it still manages to maintain a cool temperature with the aid of the integrated M.2 heatsink that keeps the motherboard running at a suitable temperature.
It also employs durable thermal pads that are reliable in transferring heat from the VRM to the heat sink, as well as a rear backplate that balances MOSFET temperature while providing structural reinforcement.
Its other features include a USB 3.2 Gen 2 Type-A port and USB 3.1 Gen 2 Type-A & Type-C ports,   SATA 6 Gbps, double PCIe 3.0 ports, double M.2 ports, HDMI 2.0, and DisplayPort 1.2 that provides support for connecting external devices to aid the functionality of the gaming motherboard. 
Pros and Cons
Pros
It is an ATX gaming motherboard.
It has an integrated M.2 heatsink.
It has a good audio system.
Cons
It has no onboard Wi-Fi.
It has no built-in support for Bluetooth.
Gigabyte H310M S2P
High-Speed Lan Integrated Motherboard For Gaming
Gigabyte is one of the reputable names in the gaming world and their motherboards are designed to offer precision, viability, and strength to taking motherboards. 
The Gigabyte H310M S2P uses an Intel / micro ATX motherboard with 8th Generation Intel core processors plus high-quality digital output technologies that ensure excellent output quality for games.
It uses a high-speed gigabit Realtek 8118 LAN with automatic bandwidth allocation that ensures stable network connectivity of games and any application being processed.
The Gigabyte H310M S2P motherboard uses 8-channel HD audio with effective audio capacitors that deliver well-filtered audio for a realistic sound effect. It also employs an audio noise guard that is highly efficient in filtering noise from the analog audio components at the PCB level.
It is further equipped with a highly efficient smart fan5 that keeps the temperature of the motherboard at a low rate while in use. The smart fan 5 features multiple temperature sensors at different board locations and hybrid fan headers that support both PWM and Voltage mode to provide a suitable cooling system for the motherboard.
The smart fan 5 also has an intelligent fan stop feature that automatically stops the fans when the temperature of the motherboard is very low by relying on the fan sensors, readings, and general temperature of the motherboard.
It supports NVMe PCIe Gen2 x2 2280 M.2 technology to increase the system's performance and it is further equipped with auxiliary ports such as the HDMI 1.4, DVI-D, D-sub ports that provide multiple displays.
Pros and Cons
Pros
It uses an 8th generation intel core processor.
It has a great cooling system.
It has a high-speed LAN network.
Cons
It does not support excessive overclocking.
It has few fans.
ASRock Fatal 1ty B450 Gaming Motherboard
8 Power Phase Integrated Motherboard For Gaming
Although not a popular name, ASRock is one of the growing names in the gaming community and their products are built with powerful features that makes them reliable and highly efficient for designated tasks.
The ASRock Fatal 1ty B450 gaming motherboard is equipped with an ITX motherboard and an 8 power phase design that provides consistent power to the motherboard. It is equipped with an AMD B450 chipset, an AM4 socket and uses a dual-channel 32GB DDR4 ECC and Non-ECC DIMM slot.
It uses a water cooling system that supports up to 105W water cooling pinnacle ridge, a 95W water cooling summit ridge, and a 65W water cooling raven ridge to maintain a low temperature while maintaining an excellent motherboard performance.
The AsRock gaming motherboard supports high-speed wireless connections with up to 433Mbps. Its connectivity is further improved with a high-speed class II Bluetooth 4.2/3.0 as well as a wireless LAN with a dual-band speed of  2.4./2.5GHz.
It is further equipped with 2 PCIe 3.0 x16 slots and 4 SATA slots. It is Raid 0, Raid 1 Raid 10, and Raid NCQ ready and it also supports AHCI and Hotplugging. It is also compatible with AMD Ryzen CPUs and it supports the Microsoft Windows 10 64-bit operating system.
Pros and Cons
Pros
It uses an ITX motherboard.
It uses a water cooling system.
It has an 8 power phase design.
Cons
Limited USB ports.
It is small-sized. 
Conclusion
Considering your efforts and resources in choosing all these gaming hardware, I do not intend to be the villain but sincerely, you won't get the full value of what you bargained for if these hardware components are not compatible with your gaming motherboard.
Think of it as the backbone of everything that you hold dear in your gaming rig –  if the foundation is bad, the building will fall apart in no time. Despite this, a lot of people do not pay attention to the type of motherboard that they use for gaming and eventually, everything falls apart because the center of functionality cannot hold them together anymore. 
Using the right motherboard is the first step to building a strong gaming rig. 
I hope that this article was helpful in your search for a cheap motherboard that you can use for gaming. If you're not satisfied with our choices, you can check for more on Amazon.com