Computer Station Nation is reader-supported.
When you buy through links on our site, we may earn an affiliate commission. Learn more.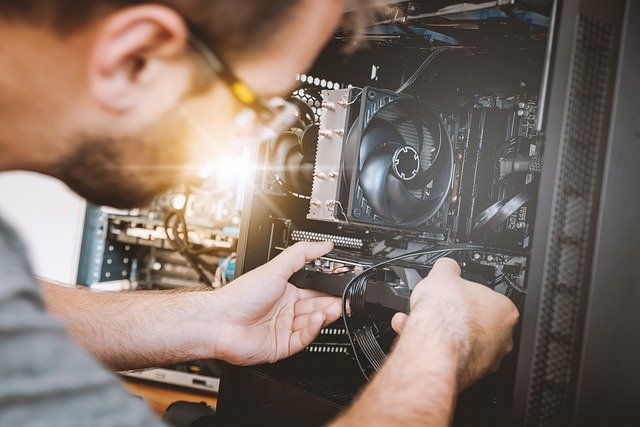 Contrary to popular opinion, a computer case is not just an abode for your computer gaming hardware; it holds everything in place and organizes them with features that support their performance and promote their durability. 
A computer case is made from high-quality materials that are designed to be suitable for different computer hardware. It employs features that protect, organize, and provide ventilation to your PC's components. 
Why there is a necessity to buy a computer case?
It is a necessity for the active performance of every gamer because they determine the durability, functionality, and reliability of everything that you've invested to fund a gaming session. 
There are a lot of expensive computer cases but you do not have to spend a lot while trying to find a familiar abode that can promote the performance and durability of the components of your PC. 
To point you in the right direction, I selected the best three computer cases that are below $100 and they come in different sizes and form factors which makes them compatible with different types of motherboard for a thrilling gaming session.
Our Top 3 Picks For The Best Computer Case Under $100
Phanteks Enthoo Pro Computer Case
Full Tower Computer Case
Simplicity is the first thing that comes to mind when you see this computer case and no doubt, it employs this simplicity to complement its basic features as a computer case.
It is sturdy, and well built with features that provide a neat organization, intelligent cable management, and a ventilation system for your PC's components. 
The Phanteks Enthoo Pro Computer Case is built with a 200m fan on the front and a 140mm fan at the back that can be easily controlled through an integrated PMW hub to improve the cooling condition of the computer case by evenly dispersing cool air throughout the case.
In addition to the cooling fans employed to produce cool air, this computer casing also integrates an extensive water cooling support system that is built in four installation areas for different sizes of radiators.
Furthermore, this computer casing is also built with removable dust filters that aids in the proper maintenance and workability of this computer case. The Phanteks Enthoo Pro Computer Case has its components well assembled in an aluminum casing that are sturdy and reliable.
It is equipped with a PSU that is hidden by a PSU cover, a closed HDD panel that is designed to improve the rigidity of the case even when the HDD cages are removed, and a removable drop-and-lock SSD bracket.
It also features two USB 3.0 ports, two USB 2.0 ports, a microphone port, and a 3.5mm audio jack. So, in conclusion, the pros and cons can be listed as follows
Pros and Cons
Pros
It is possible to include more fans.
It has an extensive water cooling system.
Its cable management tools are pre-installed.
Cons
It is heavy.
It does not have portable handles.
Cooler Master TD500
Mid Tower Computer Case
Built with crystalline tempered glass on the side panel to display beautiful RGB lights that are employed to improve its appearance, the Cooler Master computer case is designed to provide proper ventilation and organize the components of your gaming rig. 
It is built with three powerful ARGB fans that deliver air and beautiful lights through a polygonal mesh that features a  geometric three-dimensional contour for improving the amount of airflow delivered to the PC as well as filtering specks of dust from the computer's compartment.
In addition to the earlier features employed as a source of ventilation to the components of this computer case, the Cooler Master TD500 is equipped with two 360mm radiators.
The top and front panels are complemented with seven 120mm fans and an open-air design that supports a liquid cooling feature at the front, top, and back that keeps the system extremely cool. 
It is structured to accommodate all standard ATX, and micro-ATX motherboard configurations, as well as providing full support for a 165mm CPU cooler, a 180mm PSU fan, and a 410 graphics card. 
Pros and Cons
Pros
Its interior is spacious and fits multiple components.
It has three ARGB fans.
It has two 360mm radiators
Cons
It is heavy.
Its RGB lights are dull.
Thermaltake Core G3
Mini Tower Computer Case
Designed to be suitable for horizontal and vertical layouts, this  Computer Case integrates two pre-installed 120mm turbo fans at the front and a liquid cooling system that supports 4k and a virtual reality gaming system. 
In addition to the above-mentioned features, it supports either a  240mm DIY cooling radiator or a 240mm AIO liquid cooler with a long graphics card at the same time. Furthermore, the ventilation holes on its frame are designed with removable dust filters that promote its durability and easy maintenance. 
The Thermaltake core computer case supports a standard ATX motherboard, a tower CPU cooler with a maximum height of 110mm, a dual expansion slot VGA with a maximum length of 310mm, Nvidia GeForce 1080/1070, and PCI-e riser. It further employs a tool-free drive bay design that allows users to easily mount up to two 3.5"/2.5" storage devices with HDD cages.
The Thermaltake computer case is equipped with two highly functional ports that include two USB 3.0 ports,  two USB 2.0 ports, an HD audio port, and a PS2 PSU.  It is built with GPU padded braces and travel foams that keeps the contents safe.
Pros and Cons
Pros
It supports air and water cooling systems.
It features GPU padded braces and travel foams.
Its holes are designed with removable dust filters.
Cons
It has a plain design.
Its size cannot contain a lot of PC components. 
Conclusion
Having below a $100 budget for a computer case can be considered as an average but healthy budget for a functional and durable computer case.
I hope that this article proved to be very useful in helping you arrive at a purchase decision as it concerns computer cases that are below $100. Well, if you still want to check out more options, you can do find them on Amazon.com.