Computer Station Nation is reader-supported.
When you buy through links on our site, we may earn an affiliate commission. Learn more.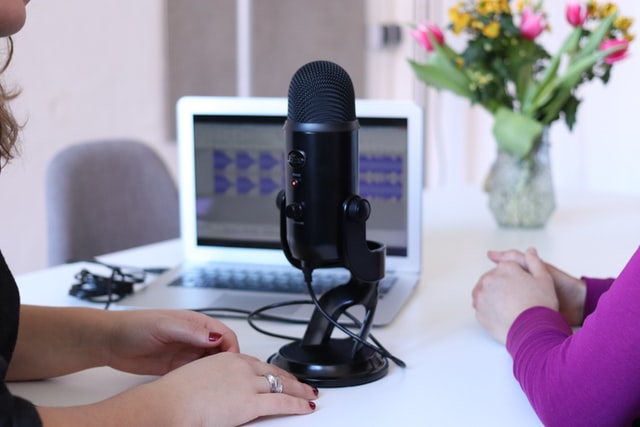 It is very embarrassing and tiring having to repeat yourself because your voice is low and cannot be properly heard by the other party during a Skype meeting. 
Well, I believe it's because you've been doing it on your own (without a good microphone) or you've been putting the fate of your vocal on a low-quality Microphone and there is no doubt that the experience has been a mess.
Your audio quality deserves the same attention as your video.
After your video quality, the next factor that can improve or defeat your efforts for a successful Skype meeting is the digital audio quality and that is why you need to rely only on the best microphones that are equipped with features that make them highly suitable for Skype and other video conferencing applications.
Apart from improving the audio quality for your Skype meetings, using a microphone for your Skype meetings contributes to a smooth video-audio experience that leaves you satisfied and elated.
Bad audio quality can make you frustrated.
If you're tired of the constant headache and complains about your low voice during a Skype meeting, then you should help yourself with the best microphones designed for Skype.
These microphones come in different styles and employ different sound patterns and other distinct features that make them the best choice for producing an outstanding audio quality for your Skype meetings.
Our Top 3 Picks For The Best Microphone For Skype
Blue Yeti
Multi-Pattern Microphone For Skype
Equipped with three capsules that produce clear, and powerful broadcast quality sounds with four patterns pick-up sound patterns that include stereo, unidirectional, omnidirectional, and cardioid, the Blue Yeti microphone is built for creating outstanding audios for Skype and other online meetings. 
These sound patterns utilized by this Microphone can be easily alternated for incredible flexibility with different audio types that would normally require different microphones.
Blue Yeti employs a built-in headphone amplifier that ensures zero latency and direct control for headphone volume, pattern selection, instant mute, an A – D sound converter, and a  microphone gain for improving the microphone's signal to make it compatible with other audio devices. 
Its design allows for an easy pivot, and adjustment to a preferred position that is proportional to the sound for optimized sound quality.
Its multi-patterned audio makes it an ideal microphone for creating professional and premium sound quality for your Skype meetings. It employs a plug-and-play functionality that makes it compatible with Windows and Mac. This microphone is highly functional and comes with a two-year manufacturer warranty. 
Pros and Cons
Pros
It supports multi-patterned audio types.
Its installation requires no drivers.
It features a high- quality A-D converter.
Cons
It is expensive.
Most users complain about Yeti's poor customer service.
Adjustable Moano AU-PM421
Unidirectional Microphone For Skype
The plug-and-play functionality employed by this computer makes it easy to install and use with Windows and Mac Operating System for Skype, video conferencing, and online teaching. 
It is built with a high-quality iron net, acrylic mirror, and aluminum alloy that makes it fashionable and durable. Its design features a one-touch panel mute button and adjustable microphone gain knob for adjusting the sensitivity of the microphone for excellent sound quality.
The Maono microphone integrates a built-in professional sound chip-set, with a 16mm electret condenser transducer with an audio converting rate of up to 192kHz/ 24bit, and a proprietary capsule design for rich and excellent sound quality.
 Other features employed by the Maono microphone includes built-in LED indicator lights that display the working status of the microphone, a boom arm, a premium converter that enables high-resolution audio recording directly to your computer, a saliva interference design, a pop filter, and a windscreen cap for lowering the degree of wind Interference. 
The Maono microphone employs features that make it suitable for audiovisual electronic musical instruments and various applications that have an operating life cycle of up to 1500.
This microphone also comes with a one-year warranty and a kit that includes a condenser microphone, an adjustable sturdy arm, a desk mount clamp, a metal shock mount, a pop filter, a windscreen cap, a USB cable, and a manual.
Pros and Cons
Pros
It uses a  unidirectional sound pattern.
It has an LED indicator light that identifies the working status of the microphone.
It is packaged with other devices for smooth and easy use.
Cons
It is not easy to set up.
It has a technical design that requires fixing a lot of devices for it to work 
360-degree Kaysuda SpeakerPhone
Omnidirectional Microphone For Skype
While employing a 360° omnidirectional sound pattern that picks your voice from as far as seven to ten feet,  with a noise and echo cancellation technology that eliminates background noise
For professional and excellent audio clarity, this speakerphone is a suitable choice for a multi-person conference via Skype, Zoom, Google Hangout, Microsoft Teams, Cisco, Avaya, FaceTime, Ding Talk, Vonage business, Adobe web, dragon speak, and other applications that require excellent sound quality.
The Kaysuda speakerphone employs the features of both a speaker and a microphone, and this makes it suitable for multi-person Skype meetings. Productivity is made seamless with this microphone
It utilizes a high definition voice technology that allows its user to hear sounds with a broader frequency range by ensuring that the conversations are clear and well optimized for conference calls, webinar presentations, and recording.
This microphone can be installed without drivers and this contributes to its easy and smooth compatibility with Windows, Mac OS, Linux, and Chrome. It also has a 30 days refund and a 60 days stress-free return if the buyer is unsatisfied with the product. 
Pros and Cons
Pros 
It has echo and noise-canceling technology.
It can pick up voices as far as seven to ten feet away.
It has a refund and returns policy.
Cons
It does not support a 3.5mm input.
Its wires can get tangled if it is not properly managed.
Conclusion
Microphones are designed with features that improve the sound of your voice for an outstanding and professionally-tagged  Skype meeting. 
I hope this article helped you to make a purchase decision for a Skype microphone. If you still want to explore more options, you can find them on Amazon.com