Computer Station Nation is reader-supported.
When you buy through links on our site, we may earn an affiliate commission. Learn more.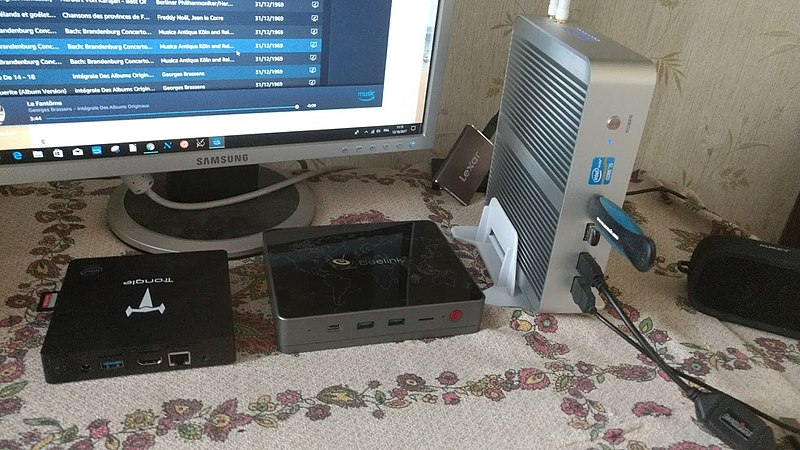 Hey buddy, have you tried setting up a media center in your home that gives you easy access to a range of entertainment platforms? Due to the fast gaining popularity and of course the popularity, versatility, uniqueness, and ease that is attributed to Kodi, there are great chances that it is your preferred choice. 
Kodi offers freedom, flexibility, and easy access to a wide range of entertainment that includes streaming. As a free media content software that can run on a lot of devices, it is not much of a surprise if you want a compact and small form computer that is engineered to effectively handle it.
Mini computers are packed with high end features.
Irrespective of the fact that you want a compact-sized computer, you also want a highly functional and durable mini-computer that is well equipped to handle all the high-end media features offered by Kodi. 
It is for this reason that I selected the best three mini-computers for Kodi. Let's dive in!
Our Top 3 Picks For The Best Mini Computer For Kodi
Apple Mac Mini
Intel Core i3, 8GB RAM
Ever distinguished Mac owners, I've got you covered with the Apple Mac Mini computer that is built with an Intel UGD graphics 630, an 8th generation 6-core and quad-core Intel core i3 processors that are .
The Apple iMac mini-computer is sleek, portable, well built with a beautiful coating that contributes to its outstanding physical appeal. In addition to its sleek appearance, it has one striking feature.
This mini-computer is engineered to operate on a fast and smooth 8Gb  2666MHz DDR4 memory that provides seemingly unlimited access to the smooth operating of various high-end applications and software including Kodi.
Furthermore, this mini-computer is equipped with ultra-fast SSD storage that complements its large memory. This feature is built to support easy and smooth loading of big files and allows you to launch apps with the speed of lightning. 
In addition to all these outstanding features integrated into the Apple iMac mini-computer, it also features a variety of ports such as HDMI 2.0, two USB 3 ports, four Thunderbolt 3 (USB C ports), 802.11ac Wi-Fi, and a 10Gb Ethernet.
Pros and Cons
Pros
It has an 8Gb DDR4 memory.
It functions on an 8th generation intel core i3 processor.
It is equipped with various functional ports.
Cons
It is expensive.
Its operating system is only peculiar to Mac Users.
Asus Chromebox 3
Intel Celeron, 4GB RAM
One of the reasons why Kodi is a popular and favorite media platform for a lot of people is its adaptability to function on different operating systems, and a chrome box is not an exception.
If you prefer to run Kodi on a mini chrome OS, then your best pick is the Asus Chrome book 3 that is sleek, portable, and well packed with a lot of functional features that facilitate the smooth operation of Kodi.
It integrates an 8th generation Intel Celeron processor, 4Gb DDR4-2400, and 32GB M.2 SATA SSD Memory for faster and smooth performance that allows it to run high-end apps and software such as Kodi on a Chrome OS. 
Furthermore, the Asus Chrome book 3 is equipped with 4K UHD graphics that supports dual display using HDMI and Display port without the need for an additional graphics card for easy multitasking. 
In addition to the above-mentioned features, the Asus Chromebook 3 features a touch screen support for more intuitive control and engaging user interaction. It also supports educational apps and Android apps from the Google play store. 
This mini PC has a small form factor with a rear mounting VESA bracket and built-in security and virus protection features that protect your device from malware and virus.
It is equipped with intel 802.11ac Wi-Fi, Gigabit LSN, Bluetooth 4.2, USB 3.1 ports Gen 1, Type A and Type C ports, a micro USB slot, and an audio jack.  It supports a plug-and-play media player for digital signage by configuring Chrome Kiosk mode.
Pros and Cons
Pros
It integrates a 4K UHD dual display.
It has built-in security features. It has a touch screen 
Cons
It is heavy.
Its operating system only supports software and applications that support chrome OS.
Bmax
Intel Celeron J4115, 8GB RAM
Being the most popular and most widely used operating system, the list wouldn't be complete if I do not include a mini-computer that can run Kodi via a Windows operating system.
Windows are easy to operate and maintain, making it one of the best systems for Kodi and if your criteria for a mini-computer for your Kodi is in line with a Windows operating system, then you should have a look (or little more than a look) at the Bmax Mini Computer.
Built with smooth round edges and a size that is easy to carry, this mini-computer utilizes an Ultrafast 128Gb SSD storage, an 8Gb LPDDR4 memory, and an Intel 9th Gen UHD graphics 600 that
It is designed to function on a Windows 10 Pro 64 bit with high-end features that are reliable and stable. Trust me, you won't be disappointed with this beauty.
It is further equipped with an Intel Celeron J4115 with an operating frequency of 1.8GHz/s that is capable of rising to 2.5GHz in burst mode to prevent lag and present a stable experience while running Kodi.
It is designed to support a 4K 60Hz triple screen display that produces stunning visuals with excellent picture quality for immersive viewing.
The Bmax mini-computer is equipped with two USB 2.0, two USB 3.0, USB type C, two HDMI ports, an Ethernet port, a Microsoft card reader, a headphone/ Microphone jack, Bluetooth 5.0, and two built-in channeled speakers.
Pros and Cons
Pros
It supports a 4K 60Hz triple screen display.
It is built with a 9th Generation intel core processor.
It is equipped with various functional ports.
Cons
It is heavy.
It does not auto restart after power failure.
Conclusion
Minicomputers are loved for their portability, flexibility, and sleek appearance. Despite their compact size, they're highly functional with a lot of features that aid the smooth operation of different applications and software including Kodi.
I hope that the content of this article presented a well detailed and informed guide to facilitate a smooth and easy purchase of a mini-computer for Kodi but if you still want to explore more options, head over to Amazon.com.