Last Updated on
How about you just roll that computer over here and type that in my face?
Ok, cheesy intro lines aside, a rolling computer desk is pretty awesome for a lot of different situations. Do note that these are just types of Rolling Desks, we like all other types of computer desks too!
Regular Rolling Desks
If there is such a thing as a regular desk with wheels, then these are it. You can move them around to where ever you like, park them, and usually lock the wheels. Boom, you have a computer desk the moves easily. You little hacker you.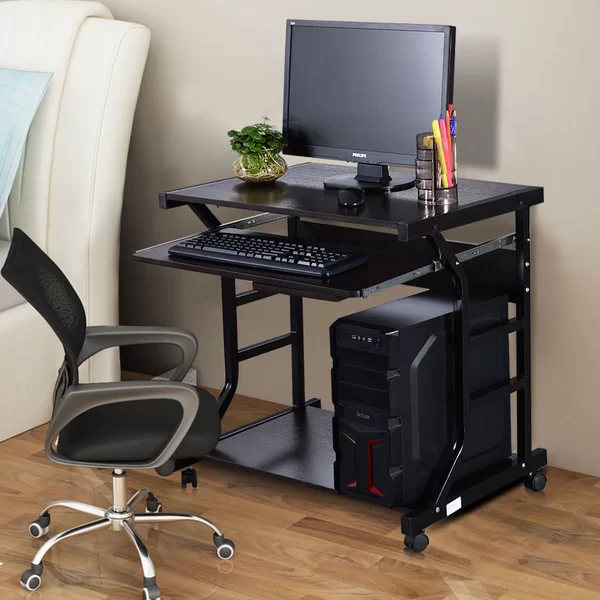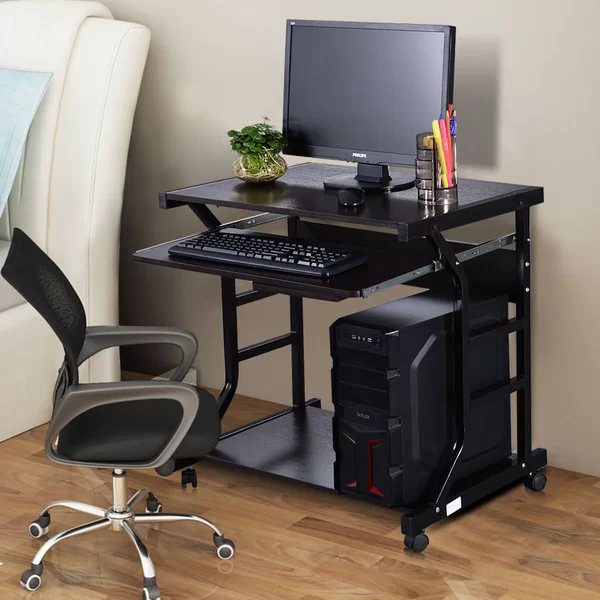 There are a surprising amount of desks that have wheels for you to choose from. I personally was not expecting to find as many as I have while writing this. For example: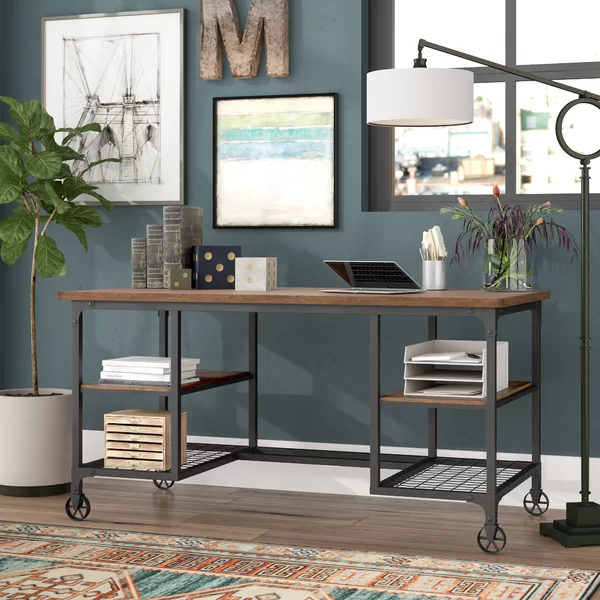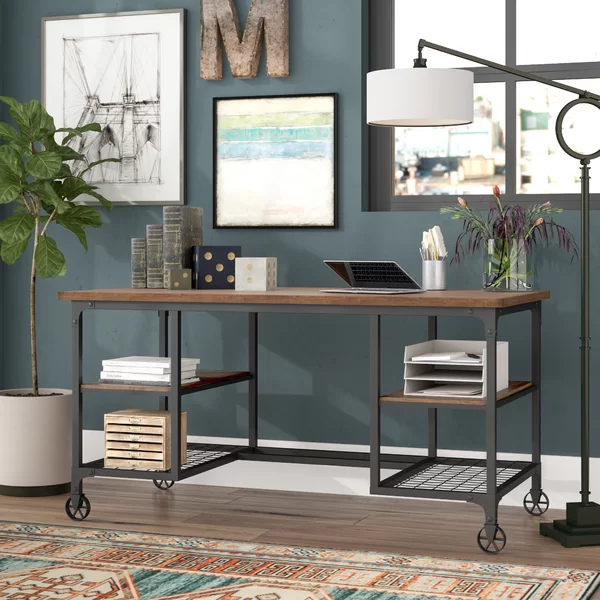 This desk is very stylish and would sit nicely along a wall in many types of rooms. Having guests over with kids who get into everything? Well just move this desk into the next room and close the door.
The only thing I can see from this desk is that maybe the wheels don't lock. That could be a huge annoyance, though I am sure you could figure out a solution.
Sit to Stand Rolling Desks
As the name of this section indicates, these are desks that also allow you to sit or stand at them. This is great if you need to move your desktop around a lot in a work environment.
You can find all sorts of options in this category as well. I guess people really need to move around at work these days? Here is one that is well suited for getting a small mobile work space with a laptop.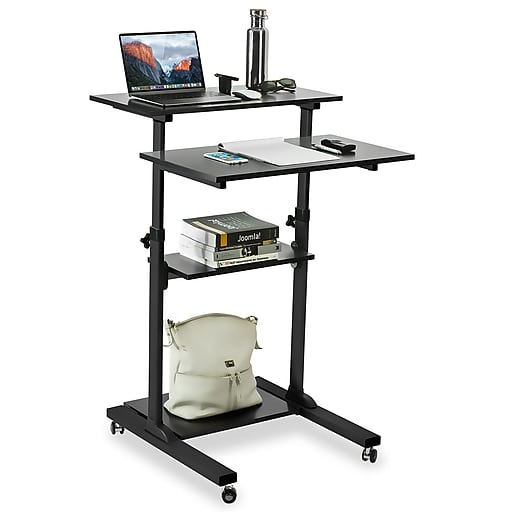 That is not to say that all mobile adjustable desks are so small. Here is a much bigger standing rolling computer desk option that allows you to use your computer on top of it: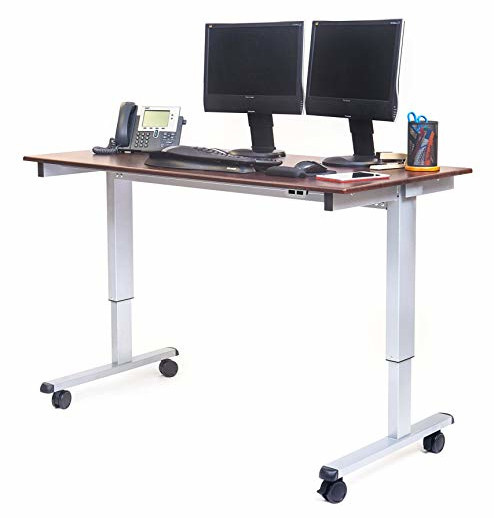 The sit to stand rolling workstation picture above does not show a desktop, but just imagine one where the phone is. Then imagine the phone in the trash. Just kidding, some people still need those.
The desk is in the image electric, but their website also has hand crank options in case you feel like you need that extra work out.
Standing Only Rolling Desks
If you never sit down then you may opt for a rolling desk that does not let you. I suppose you could also view these as a more temporary place to set your stuff down to work for a short time.
This option for a small computer stand on wheels will definitely lend it self to the idea of only standing at it temporarily: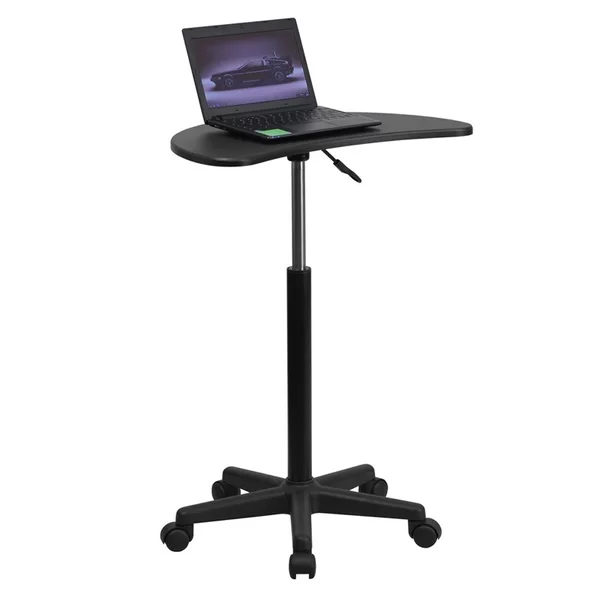 Another option here could be called a Rolling Podium or Rolling Lectern. Not the first thing that comes to mind for a roll around computer stand, but it does many of the same things that a desk would.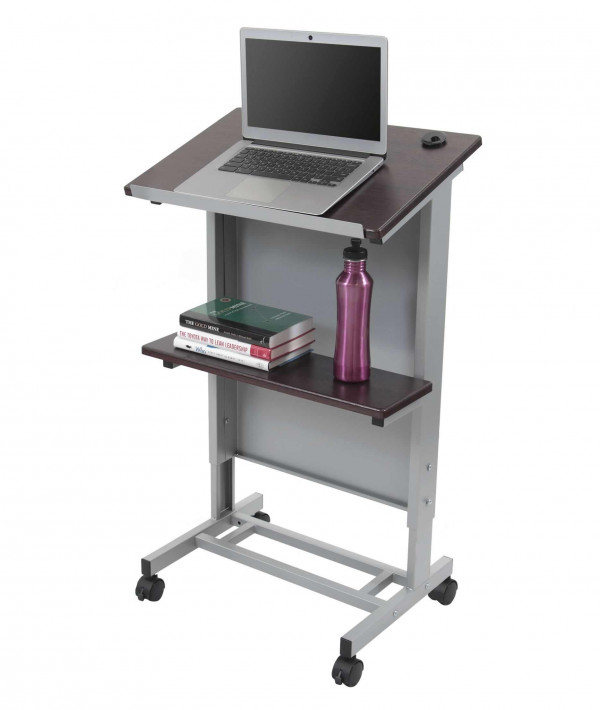 Conclusion
If you are looking for a rolling computer stand complete workstation on wheels then I hope you found what you came for. These options are  all somewhat lacking in features, but I would consider that to be a good thing. I picture most use cases for these to not need much fluff. If I am wrong though, please let me know!