Computer Station Nation is reader-supported.
When you buy through links on our site, we may earn an affiliate commission. Learn more.
Do you want a computer monitor that sits down into the desk? Well, are you ready to get weird?
Having a recessed monitor desk is not going to be something you see everyday. Unless it is because you work or go to a school that has them. That is about the only place I can personally recall seeing this type of desk with concealed monitor, which makes sense that some people would call it "Classroom Furniture". Not a bad thing if that is what you are looking for! Nonetheless it can be great in certain types of situations.
Update: Most of these desks are available from Uptime Business Products who has agreed to offer our readers a deal.
Just use promo code "UPTIME" in the comment field to receive a 10% discount!
This probably goes without saying, but let's say it anyway – Not all of these desks are not going to be great for full time use. They do not all allow you to obtain proper posture. This is according to everything I have read, but I am not a doctor, at least not today. If you are not sold on one of these things, you really should check out other computer desk options.
What are the options?
Motorized Monitor Lift Desks
This is probably one of the coolest things you could do to hide your monitor and completely recess it into the desk. 


This looks like it is straight out of an early 2000's James Bond film. So if you have a lot of time, an old square monitor you don't look at all the time, and a Desk you want to cut a hole into, then here is your next project.
I am sure somewhere there is a more modern version of this for wide-screen monitors but I did not run across it.
Update: I have run across an epic modern version of this!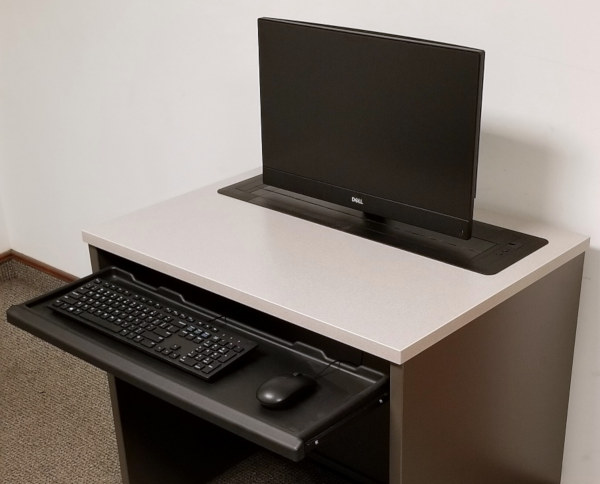 This desk is awesome. If you have ever wanted a desk with hidden monitor lift, your dreams may have come true right here and now.
It supports most VESA mountable monitors up to 24"! The keyboard tray also has 5 different locking positions, can have a section for a computer tray to the right, has a wire management system to conceal wires on the backside, and is made in the USA.
Now in case you forgot, these are obviously targeting a classroom setting, but could also be used in some amazing home setups.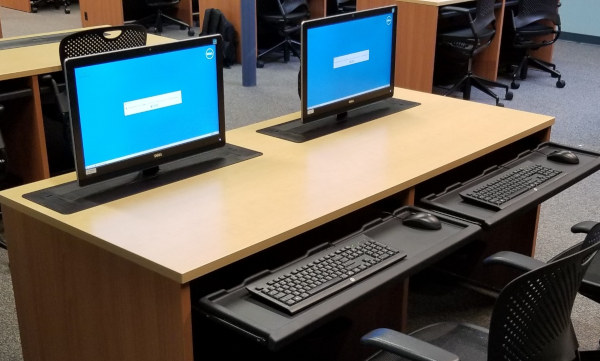 It can also come in a configuration for two, meaning you can have a sweet his and her computer station that could double as a craft area or work bench when not in use.
Now maybe you are like me and you prefer a standing solution.
Well, they have that too!
Sit-Stand Desk with Motorized Monitor Lift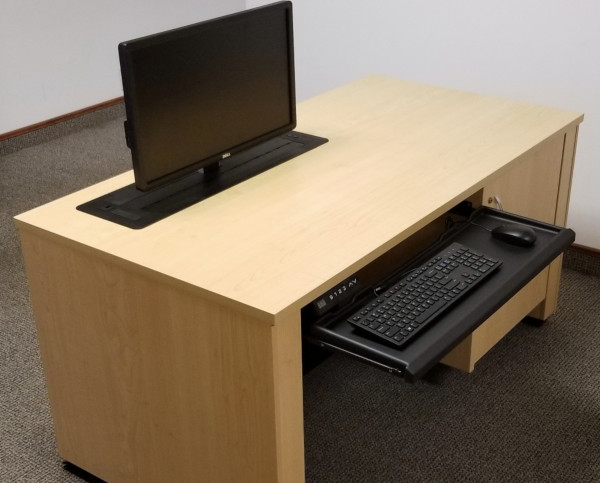 This thing is more than meets the eye, in fact, it is probably one of the most epic standing desks I have come across.
It has electric motors that are height adjustable from 30" up to 42", lift capacity up to 400lbs, and includes a multi-plug power strip and wire management channel. Nice.
Here is where it gets interesting though. It has a 12 RU rack rail storage in right compartment with Front and Rear rack rails, plus the door locks!
This means you can keep your music equipment or computer servers running in your desk and keep it locked up. That is pretty awesome.
Completely Recessed Monitor Desks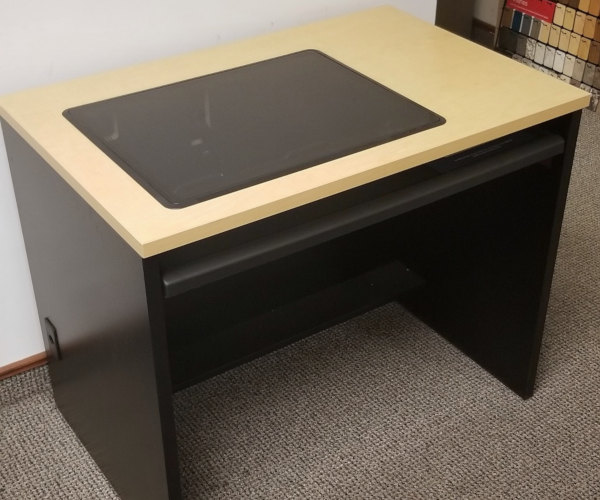 Look at this desk. It is beautiful. No wires to be seen. Of course there is no computer on it right now, but if there was, it would look similar!
This monitor for the computer sits right under the tempered glass. This of course is intended so that you can still see a classroom instructor well. However, this could also be useful for comparing onscreen data to printed data.
This desk supports most VESA mountable monitors up to 24", sits the computer on a shelf (not visible here), and hides cables very well. The keyboard tray also has 5 locking positions, which is super nice.
Partially Recessed Monitor Desks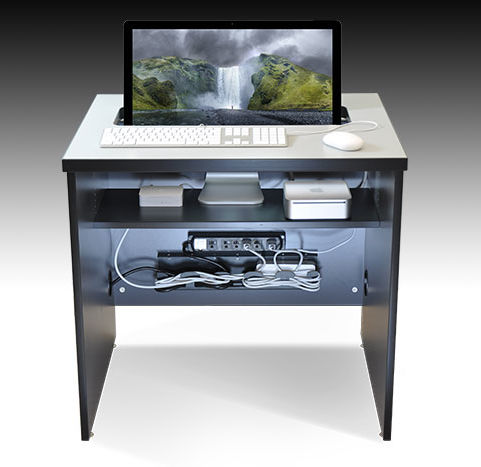 Again the first thing that comes to mind here is a computer lab at a local college. Well that is what they are marketing as so it makes sense as well.
Outside of that use case though, what are you going to do with this? It is not like you can take the monitor away and use the desk then, there will be a giant hole in it! The one thing this does get points for though is nice cable management.
Another style of this category allows the monitor to go behind the desk a bit, then come out when needed.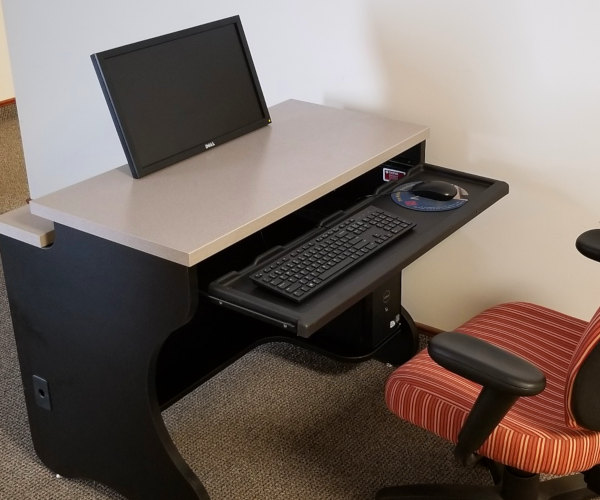 You can see how the monitor is sitting on top of the desk, with a sort of shelf behind the main surface.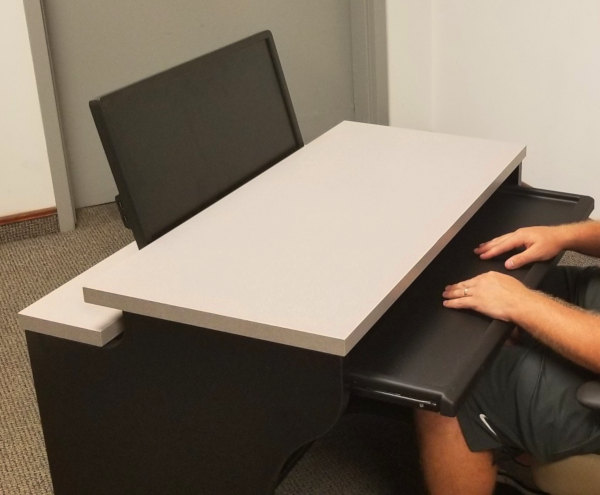 You can see that the monitor tucks in behind the desk surface. I am not sure if it would lay completely flat or not.
The desk looks to have a similar keyboard mouse tray as the other NOVA desks, with 5 locking positions. The monitor mount is height and tilt adjustable and supports most wide screen monitors up to 21 lbs.
If you are outside a classroom setting on this, the desk certainly seems like it could be nice to have if you are an artist doing large drawings, or someone with a ton of paper work and binders that you have to have out frequently.
Recording Studio Desks with Recessed Monitors
This is where things start to get a bit more sci-fi looking. Music and recording stations tend to have a lot going on. You have all sorts of mixing boards. knobs, audio jacks, and things I simply know nothing about. What I do know is that they look pretty awesome when setup nicely.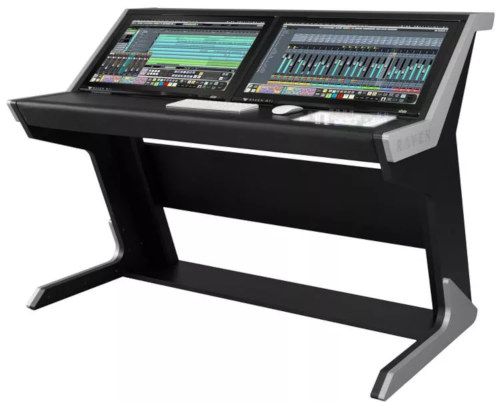 Take this one for example. It is hard to imagine a more sleek setup. They even have a cool video of it being used. There are always custom solutions for this as well, but if you have the money and nothing better to spend it on then look no further.
In Conclusion
If you are looking for one of these super weird desks then you probably have found most of your options right here. There is not a huge demand for this type of desk, but if you need one hopefully I have helped you get where you are going.