Computer Station Nation is reader-supported.
When you buy through links on our site, we may earn an affiliate commission. Learn more.
Have you ever wanted to look straight down through your desk and see what socks you are wearing? Well have we got something for you.
Glass computer desks can look super modern and classy.
There are all sorts of variations:
Tempered or Black Glass Desks
Clear Glass Desks
Desks with Glass Sides
If you are not settled on Glass, then check out desks made with other materials.
Tempered or Black Glass Computer Desks
Tempered glass is all the rage with custom PC cases these days, maybe you want a desk to match?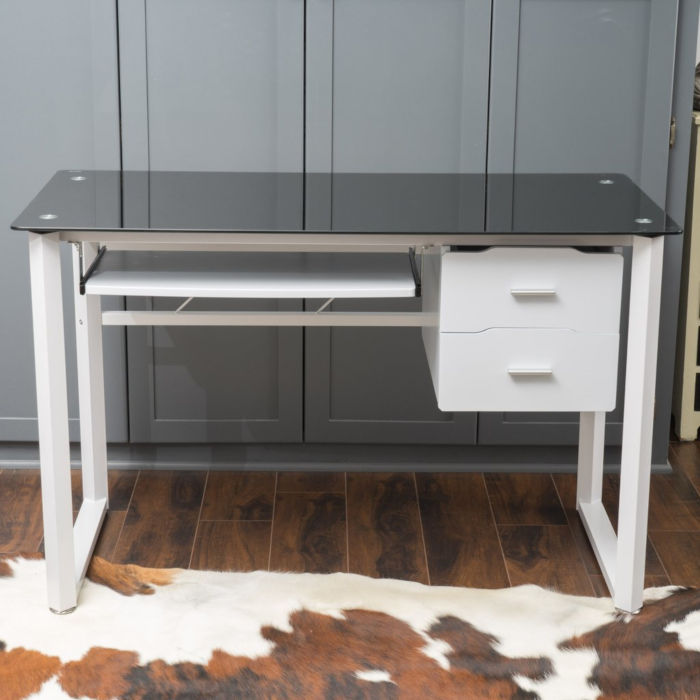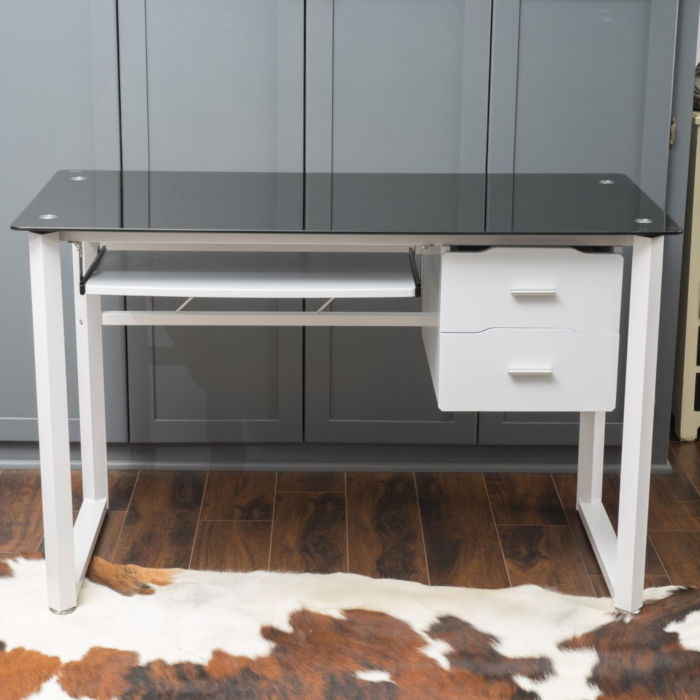 A nice clean ascetic with drawers and a keyboard tray. Very classy.
The desk looks like it would work well with dual monitors and fit well in an office space or gaming room.
Here is another great modern example: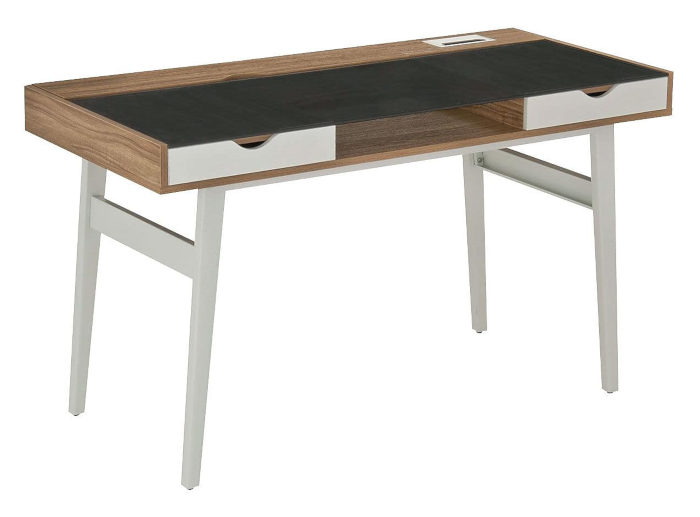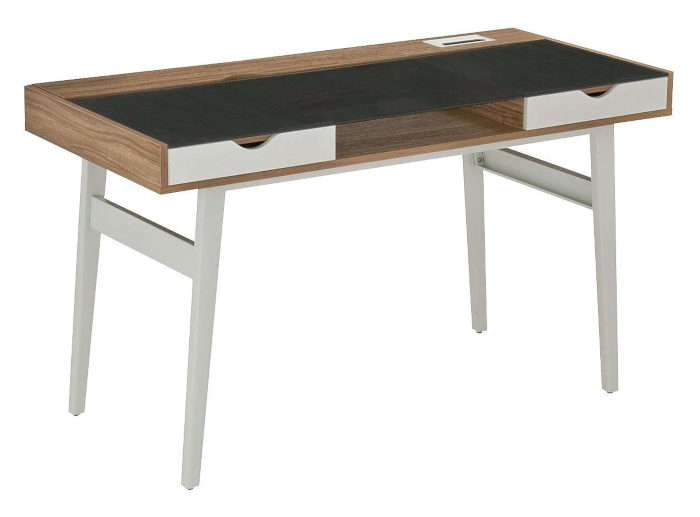 I love the very clean look of the glass with the wood.
The white drawers also give just enough variance to keep it interesting without going overboard.
Clear Glass Computer Desks
The clear glass type of desk can really be a hit or miss in my opinion.
Keeping them clean would be a major challenge for me, but not impossible.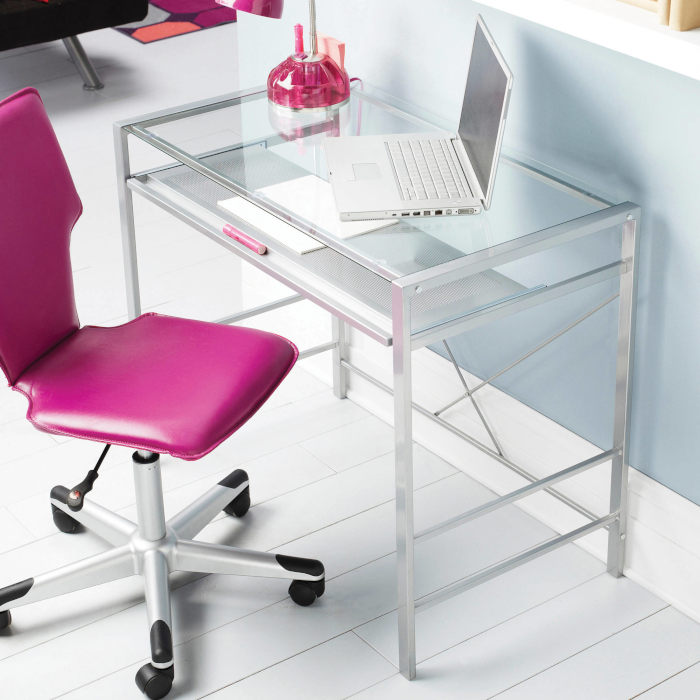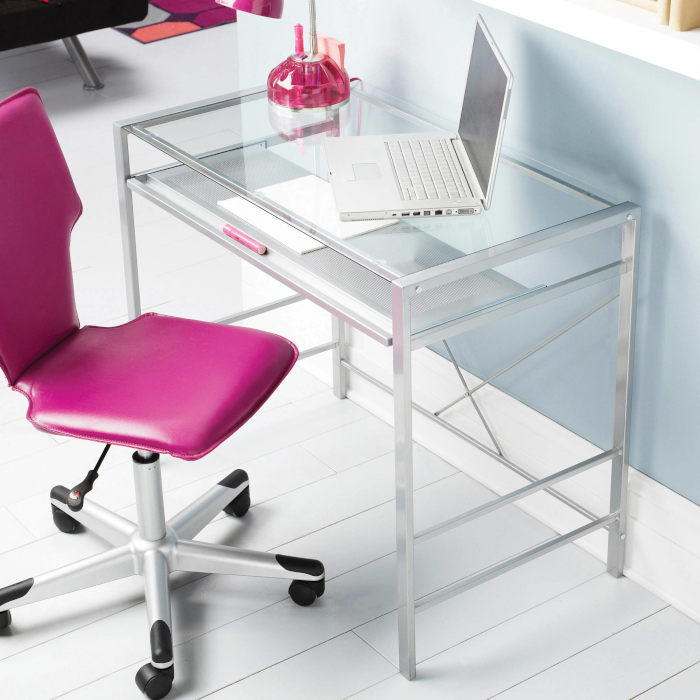 This is a great example of a glass desk for a laptop.
The nice light colored metal frame allows the glass on the desk to really show.
In this setup they added a great splash of color with the chair and lamp to keep it lively.
The cool thing about this desk is that the glass can come in multiple colors to allow you to match the rest of your setup or room.
This next example is a type I see a lot when browsing battlestation setups: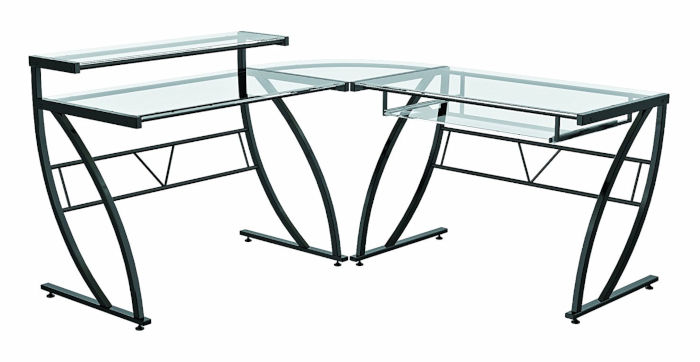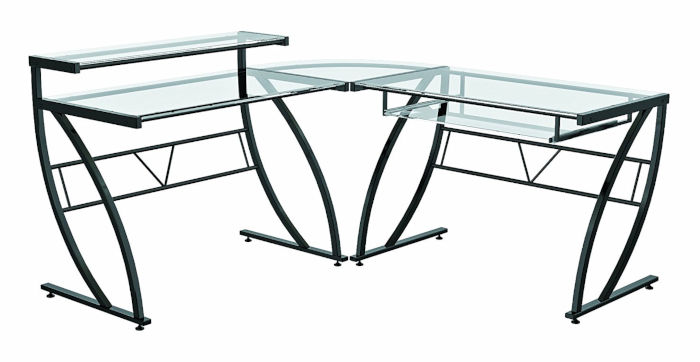 This is a nice clean desk that allows you have multiple monitors and even multiple computers at it.
The clear glass also allows any RGB lighting to show through very well.
Computer Desks with Glass Sides
So apparently this is a modern thing I was not aware of.
I wanted to call  these glass legs, but they are one solid panel, so sides seems more appropriate.
Have a look: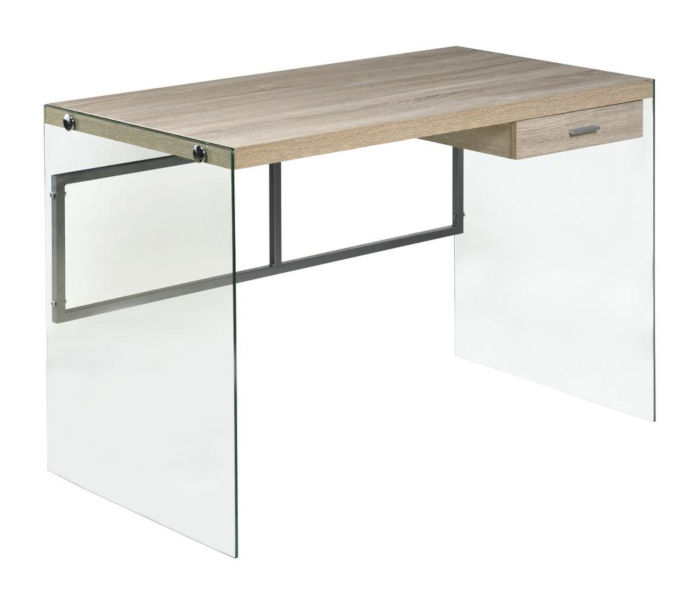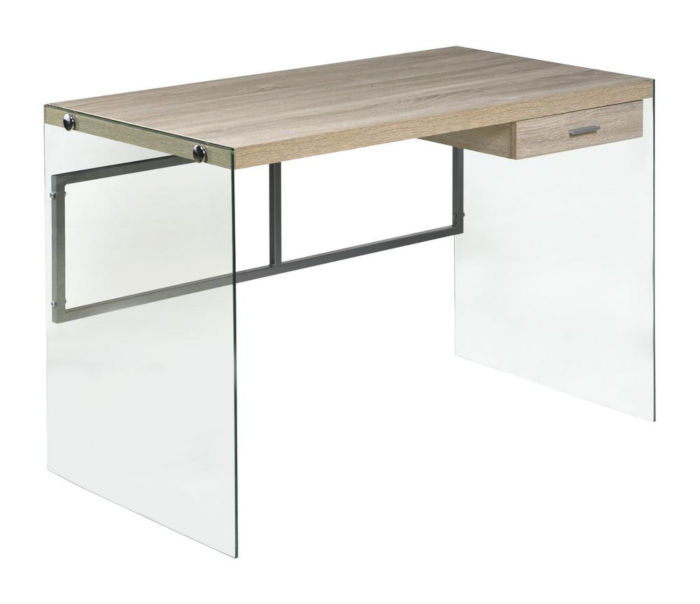 Look at that modern work of art.
I feel like it belongs in a museum.
You can see where this would look amazing just about anywhere in a home.
Here is another example: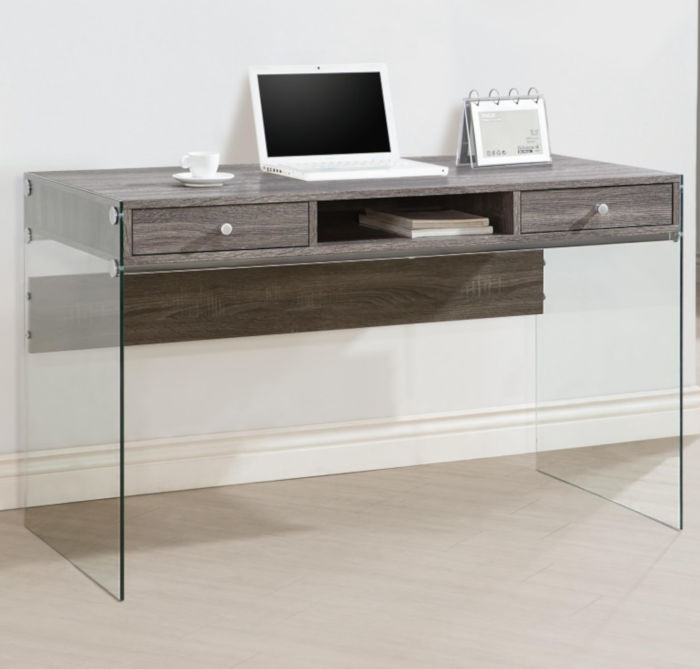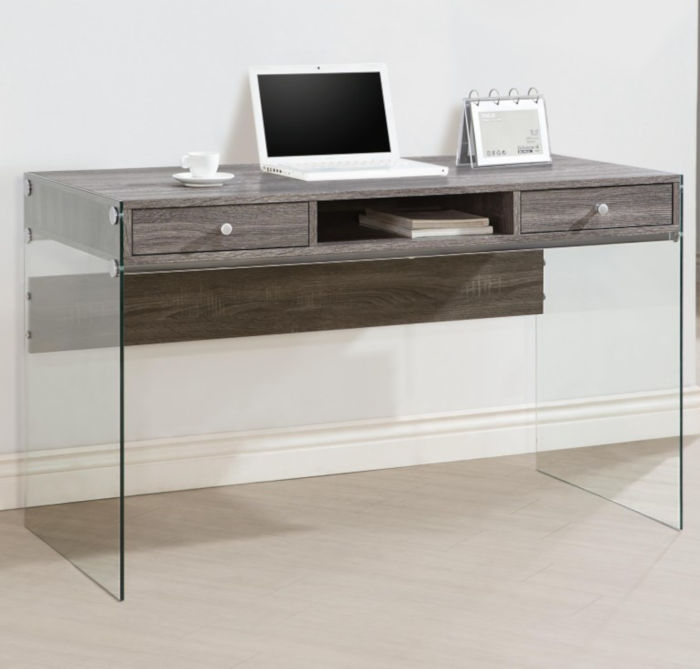 This desk is a little less industrial and a little more rustic.
This model may end up fitting more homes than the previous one, but both look pretty awesome.
All Glass, All Day
This last desk is all glass.
That's right, every piece of it.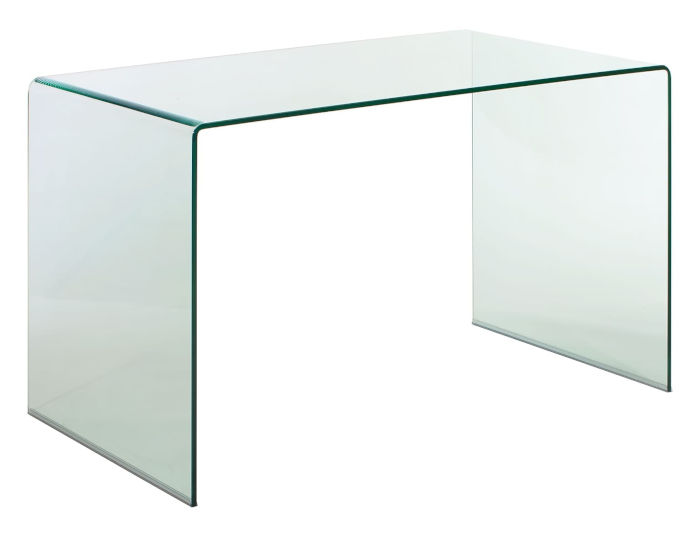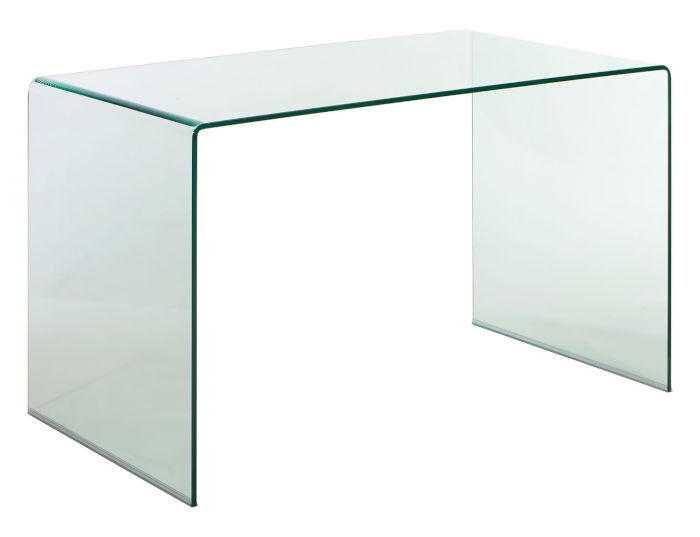 Well, you just can't get a more simple clear all glass desk.
GG.
Frequently Asked Questions
✅ How much weight can a glass desk hold?
This will ultimately depend on the desk's shape and glass thickness. This could be 50lbs or 100lbs – the only way to know is to check with the manufacture.
✅ Are glass desks safe?
A glass desk should be perfectly safe. Just be sure to keep in mind how much weight you are putting on it, and what it is rated for.
✅ How to clean a glass desk?
It is pretty straight forward, a simple microfiber cloth and some glass cleaner will do the trick. You may look into polish to help as well.
Conclusion
If you are looking for a desk that has glass on it in any way, hopefully you have found some direction from this page.
If you have not, please do let me know what you were missing and maybe I can add it!
Lastly, if you are looking for a glass standing desk, those do exist! Check out our Standing Desk Page here.