Computer Station Nation is reader-supported.
When you buy through links on our site, we may earn an affiliate commission. Learn more.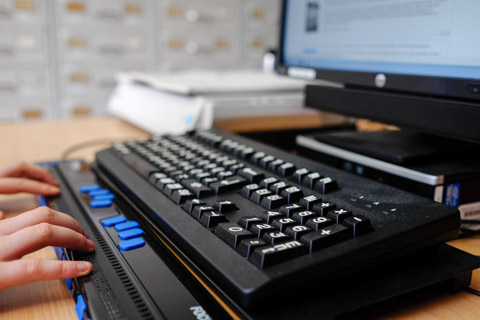 The regular designs and layout of several computer keyboards do not cater extensively to the needs of everyone. But instead of being pained at this unruly keyboard marginalization, let's look at possible solutions that are designed to help us get through this modern world where almost everything has been computerized to the glorification of the most commonly used input device; a computer keyboard.
There are computer keyboards designed for people with visual impairments. On countless occasions, it has proven to be a superhero for those that cannot adapt to the popular and generalized layout of a computer keyboard.
Although they're not a popular option in the keyboard market, there are a respectable number of keyboards designed to visually impaired a choice in keyboard technology, and I selected the best three amongst all of them.
The selected keyboards are designed in different layouts to offer you a good choice with unlimited functions to maximize your productivity effectively. They are durable and ergonomically designed with large keys and fonts to enable easy identification.
Our Top 3 Picks For The Best Computer Keyboard For The Visually Impaired
Able net Computer Keyboard
High Contrast Keyboard for the Visually Impaired
The Able net computer keyboard is a full-size standard keyboard with 104 high contrast keys printed in big and bold letters to enable easy identification by visually impaired individuals even in low light conditions.
It uses a standard US keyboard layout with function keys and additional hotkeys for internet, multimedia, and energy-saving features that easily access commonly used commands such as accessing the internet.
Its keys are 5" larger than the usual it is made from high-quality membrane switches designed to withstand over ten million keystrokes with a smooth, fast, and accurate responsiveness.
The Able net computer keyboard is perfect for schools, special needs departments, and libraries, organizations, companies, and government offices that need to have an assistive technology adaptation available for people with conditions that cause visual impairment, or low vision such as macular degeneration, glaucoma, diabetic retinopathy, and cataracts.
Pros and Cons
Pros
It has 104 keys.
It uses membrane switches.
It has multimedia and energy-saving hotkeys
Cons
Its size will take up a lot of desk space.
The user might experience cable drag.
Chester Creek Vision Board 2
Energy Saving Keyboard For the Visually Impaired
This keyboard offers you a chance at a compact-sized keyboard with large size 70 keys that are boldly printed to be seen even in low light.
The Chester Creek Vision board keyboard is designed to improve readability and typing skills while reducing eye strain with its bold 1" square keys and large bold black-on-white letters and numbers. It also supports hotkeys that function as shortcuts for interns and energy-saving features.
This keyboard is compatible with Windows 7, Vista, XP, 2000, and 98. It is suitable for use in assistive living communities, manufacturing facilities, special education institutions, adult daycare, and home.
Pros and Cons
Pros
It is a compact-sized keyboard.
Its key is 1" large.
It has hotkeys
Cons
The user might experience cable drag.
It does not have complete keyboard keys.
Fornicer Wireless Keyboard and Mouse Combo
Ergonomic Keyboard and Mouse for the Visually Impaired
While it may seem impossible to get a keyboard and mouse combo, this keyboard proves beyond a reasonable doubt that you can get a highly functional keyboard and mouse combo for a visually impaired person.
The Fornicer keyboard is ergonomically designed to provide additional visibility for visually impaired people, kids, and people that are just learning how to type.
It is built to a standard-sized layout with a similar key size to a typical keyboard but with larger fonts that make it easy to read, identify, and type with. Its high quality and high contrast scissors switch 101 large keys makes it easy to be seen in low light.
The keyboard and the mouse use a 2.4GHz wireless network that can connect with devices as far as ten meters, and it comes with a USB receiver located in the slot next to the keyboard battery compartment. The mouse is very responsive and has quiet buttons that are well placed and easy to reach for simple mouse functions.
The Fornicer keyboard and mouse combo are compatible with Windows 98, Vista,7,8,10, and higher as well as Mac OS, Google Chromebook, etc.
Pros and Cons
Pros
The keyboard and mouse share a USB receiver.
It is built to a standard size keyboard layout.
The keyboard is made with a scissors switch.
Cons
It does not have backlit functions.
Its size will take up a fair amount of desk space.
Conclusion
This article aims to eliminate the stress involved in finding a computer keyboard for visually impaired individuals by presenting the best three keyboards among the various options currently available in the market. I hope you were able to make a good purchase decision. However, if you still want to explore other possible options, you can find them on Amazon.com.