Computer Station Nation is reader-supported.
When you buy through links on our site, we may earn an affiliate commission. Learn more.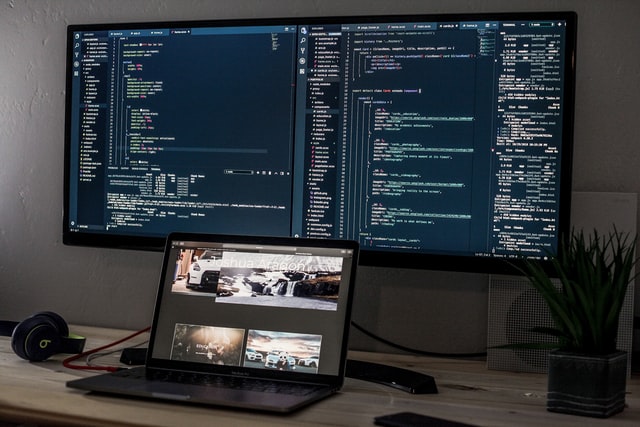 Not everyone is big on space and that is why finding a suitable area to affix your monitor becomes the second big question after getting a monitor itself. Well, do you know that there are wall mountable monitors that can save you from this stress in a stylish manner? 
It is a space-saving technique that features other amazing benefits such as a comfortable and safer viewing experience as well as a clutter-less appearance. Wall mountable monitors are stylish and present a well-organized viewing estate for a large audience.
However, not all monitors are VESA compatible and thus cannot be mounted on the wall. To help your ship sail in the right direction, I selected the best three 3 monitors that integrate different VESA wall mount patterns that allow them to be easily mounted. 
Aside from having different mounting patterns, they come in different sizes and employ distinct features that make them suitable for games, work, and entertainment.
Our Top 3 Picks For The Best Wall Mountable Monitors
Sceptre C248W-1920RN
75 x 75mm mount pattern
This computer monitor has a bezel-less 24 inches 1800R curved screen that displays stunning and realistic images with a 1080p resolution and a high contrast ratio that is ideal for work, games, and videos. Its features are designed to function exceptionally well on a Windows 10 operating system that Integrates a friendly user interface and makes multitasking easy. 
This monitor employs a refresh rate of 75Hz and a fast response time that allows images to be displayed without screen tearing, lag, ghosting, or blur while transitioning pixel frames during fast-paced games or videos.  
The images displayed on this monitor features an anti-flicker to prevent periodic backlight flickering as well as a unique blue light shift mode that provides eye care against blue light.
This monitor has a very sturdy stand that allows the monitor to be tilted 15° backward and 5° forward till a comfortable viewing angle that will support a productive output is achieved.  It also features built-in speakers that deliver office-level audio for conference calls and internet workshops.
The monitor has a verified VESA wall mount pattern that allows you to freely select an ideal viewing position on the wall for your monitor and hence reducing cable clutter and keeping your gaming organized and neat.
To aid its functionality, this monitor has HDMI ports and a VGA port, audio ports as well as digital and analog ports that support connection with external devices. 
Pros and Cons
Pros
It has a curved bezel-less screen. It functions on a Windows 10 operating system. It has a resolution of 1080p
Gives you the privilege to select your own viewing angles
Has multiple ports to support various external devices
Cons
It does not have speakers. It has a low refresh rate.
Weighty machine
AOC G2590FX
100 x 100mm mount pattern
This borderless 25-inch computer monitor uses a high definition screen to display flicker-free images with 300 nits of brightness and low blue light via the AOC low blue mode that is designed to decrease harmful blue light by controlling color temperature and reducing the amount of blue light spectrum that enters into your eyes while gaming.
This monitor employs an sRGB color gamut, a 1080p resolution, a 144Hz refresh rate, and a 1ms response time that display images at a swift speed without lag, motion blur, or screen tearing. 
Its anti-screen tearing features are further complemented by Adaptive-Sync technology and Nvidia Gysnc compatibility for a smoother, tear-free, ghost-free, and responsive game session. 
The AOC  G2590X further employs other impressive technology such as the AOC clear vision and AOC game color that is designed to convert SD contents to HD contents via its 20 levels of grey adjustment that makes the images clearer and well detailed.
It employs a 100 X 100mm VESA mounting pattern that makes it easy to wall mount the monitor on any preferred position.
It is equipped with a display port, two HDMI ports, a VGA port, and a 3.5mm audio port.
Pros and Cons
Pros
It uses Adaptive-Sync technology and Nvidia Gsync compatibility.
It uses a resolution of 1080p.
It has a borderless design.
Cons
It has no speaker.
It is heavy.
Samsung SD850
100 x 200mm mount pattern
The Samsung SD850 features a seamless multi-screen functionality that is designed for outstanding color applications via an sRGB compliance technology that ensures that the colors of the images are realistic and stunning.  It further employs 300 nits of brightness, a 1040p resolution, and 40% more screen real estate.
In addition to its bezel-less and seamless display, this monitor employs a split screen and picture in picture technology that allows you to connect two separate sources to the display and view them simultaneously without navigating through the Microsoft Windows multi-screen functionality. 
The Samsung SD850 is built with an ergonomic stand that has a sophisticated hinge technology that allows for versatile height adjustment, tilt, swivel, and pivot till a more comfortable viewing angle is achieved. It also features a display port, an HDMI port, and USB 3.0 ports that deliver swift and smooth connectivity and flexibility in your work.  
This monitor is VESA compatible and uses a 100mm X 200mm mounting hole pattern for ease of versatility when mounting it on a wall.
Pros and Cons
Pros
It uses a 1040p resolution and 300 nits of brightness.
It has a multi-functional screen.
It has a fully adjustable stand.
Cons
It has no speaker.
It is heavy.
Conclusion
Wall mountable monitors are stylish, comfortable, and easier to organize because it presents a better and well-organized appearance that eliminates cable clutter.
I hope that this article was informative and helped in the search for a wall-mountable monitor. If you're still interested in more options, you can search for them on Amazon.com