Computer Station Nation is reader-supported.
When you buy through links on our site, we may earn an affiliate commission. Learn more.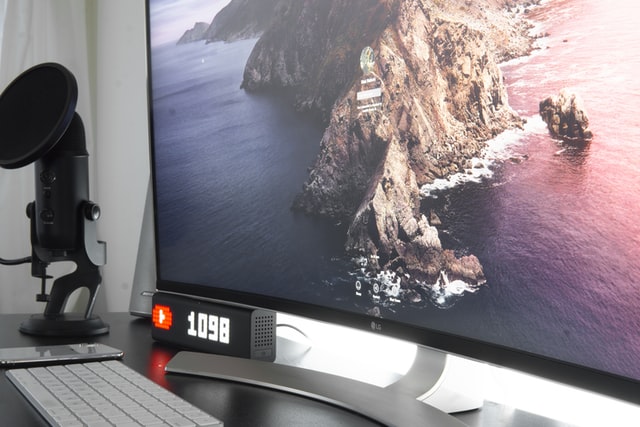 Over time, there has been a tremendous increase in the complexity of numerous applications and software, which has led to a demand for a monitor with a broad aspect ratio.
A 40-inch monitor is a great improvement in monitor technology that offers more screen real estate for improved clarity and productivity.  As a result, productivity is seamless and the gaming experience is phenomenal
It eliminates bezels that are accustomed to a dual monitor setup and provides an overwhelming and well-detailed display of pictures, spreadsheet data, graphics, games, and other information on its ultra-wide screen. 
In addition to its improved pictorial display, a 40-inch monitor offers unlimited flexibility and ease in multitasking with different windows simultaneously for efficient productivity within a shorter time frame.
Due to the numerous options available in an overly competitive market, finding the best might be difficult and that is why I carefully selected the best three choices for a 40-inch monitor.
Although the list is not strictly for 40 inches monitors, they employ excellent resolutions and other features that make them a suitable choice for entertainment and work.
Our Top 3 Picks For The Best 40 Inch Computer Monitor
Philips BDM4037UW
4K 40 Inch Monitor
4k monitors are loved for their exceptional picture quality and outstanding visuals that are clear, stunning, and realistic. Integrating this visual resolution in a large 40-inch monitor along with 300 nits of brightness, anti flickers, and a 16:9 dynamic contrast ratio to display pictures on its bezel-less 300R curved monitor screen makes this computer a suitable choice for games, videos, and work.
The Philips BDM4037UW LED monitor uses an ultra-wide color technology that produces pictures using 1.07 billion display colors and a wider color gamut for realistic scenes. 
Furthermore, it uses an advanced multi-domain vertical alignment technology that produces a high static contrast ratio for clearer and brighter images with a 178° viewing angle for an immersive and seamless viewing experience.
In addition to all these features employed by this monitor for an excellent display, it further features a multi-view technology that enables four systems to be displayed in full HD on one screen.
It also integrates a picture-by-picture and a picture-in-picture display technology that is suitable for monitoring two or more systems simultaneously. 
Whether your job involves large spreadsheet data, 3D graphics applications, web browsing, CAD solutions, games, security, or any type of work that requires a well-detailed presentation of images, the Philips 40″ monitor is highly suitable for the Job.
It is equipped with two VGA ports, two display ports, two HDMI-MHL 1.4 ports, four USB 3.0 ports, audio I/O ports, headphone jack, 5W stereo speakers, a tilt-able stand, VESA wall mount compatibility, and a four-year advanced replacement warranty
Pros and Cons
Pros
It has a 4k resolution.
It uses an ultra-wide color technology.
It has a lot of functional input ports
Cons
It has thick bezels.
Its stand is not fully adjustable.
Samsung CJ89 
1080P Ultrawide 40 Inch Monitor
Employing a 32:10 aspect ratio that is equal to two 24" monitors with an aspect ratio of 16:10 and zero-bezel blind spots, this large screen produces excellent picture quality that makes it a smart alternative to dual monitor setups.
 The Samsung CJ89 ultra-wide monitor employs a picture by picture technology that displays inputs from two PC's at the same time, and thereby promoting easy and smooth multitasking in a productive working environment. 
The connected PCs can be easily controlled through its built-in KVM switch with just a keyboard and a mouse. In addition to this wonderful feature, this monitor integrates an easy setting box software that allows its user to split the screen's real-estate into multiple windows that can be adjusted and fully customized with just a mouse click. 
Although advertised as a 43" inches monitor, its viewable area is 41 inches and it utilizes a 1080p resolution, anti-flickers, an eye saver mode, and a refresh rate of 120Hz that can be adjusted to 60Hz for optimized monitor performance and flawless lag-free scenes for your games and videos. 
The Samsung CJ89 ultra-wide monitor is built with numerous ports to support its functionality and this includes two USB Type C ports, a display port, and HDMI ports that allow you to connect with any devices. It has a VESA wall mount pattern and an adjustable stand that allows for swivel, tilt, and height adjustment.
Pros and Cons 
Pros
It employs a picture by picture display technology.
It has a built-in KVM switch.
It is VESA compatible
Cons
It has thick bezels.
It is pricey.
Viewsonic VX4380-4K
4K 43 Inch Monitor
The combination of a 4k resolution, a bezel-less screen, blue light filter, anti-flickers, 350 nits of brightness, and a  true 10-bit super clear IPS panel are the features employed by this monitor to display images with the outstanding picture quality on its large screen.
Although it is primarily advertised as a 43 inches monitor, the Viewsonic VX4380 has a 42.5 inches viewable screen that displays seamless and immersive visuals when viewed from any angle.  
This computer monitor is equipped with a multi-picture functionality that includes a picture-in-picture and picture-by-picture display technology that supports increased productivity, smooth multitasking, and simultaneous viewing of up to four windows from different PC sources.
In addition to its multi-picture functionality, it also integrates a ViewSplit software that can be downloaded for free on Viewsonic's website for easy splitting of the screen's real estate into different windows for easy multitasking.
All the features integrated into this monitor function via its highly functional ports that include HDMI 2.0, three USB ports, a display port, and dual integrated speakers.
It also boasts of an energy-saving eco mode, an energy star 7.0 compliance, and EPEAT certification that delivers great power-saving features to boost productivity for different applications such as office work, document editing, graphics, games, and entertainment.
Pros and Cons
Pros
It employs multi-picture functionality.
It uses a 4k resolution.
It has an energy star 7.0 compliance
Cons
It does not have an ergonomic stand.
It is not easy to mount.
Conclusion
A 40-inch monitor is an improvement in monitor technology that offers versatility and ergonomic benefits too.  Although some of the monitors are a few inches above 40, they are well built to display excellent picture quality for your games, videos, office work, graphics, and other applications that you will want to work on.
I hope that this article helped you to make a good purchase decision as it concerns 40-inch monitors. If you still want to search for more, please click on Amazon.com.