Computer Station Nation is reader-supported.
When you buy through links on our site, we may earn an affiliate commission. Learn more.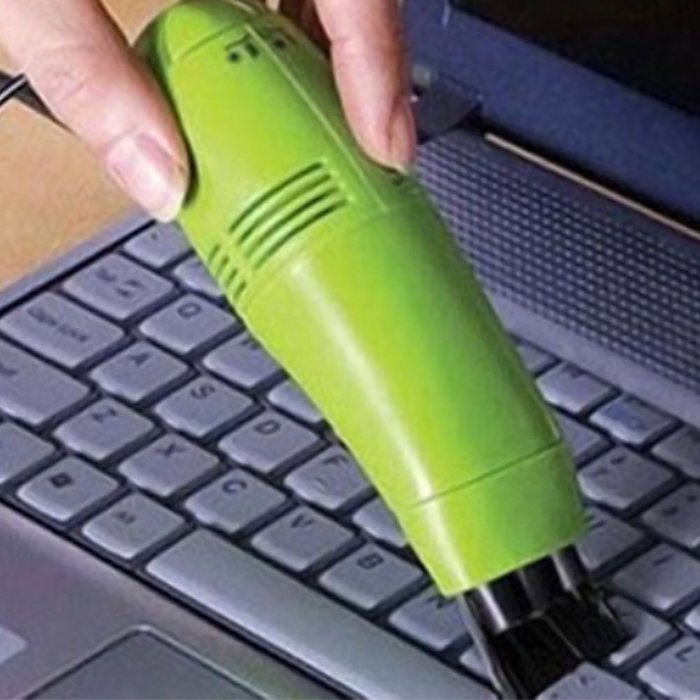 If you can't keep your hands away from food or snacks while you're working on your keyboard, then you should flatter your keyboard with a vacuum cleaner.
You might not fall into this category of people, but you'll agree with me that dust, debris, and particles from God knows where has a way of making themselves comfortable in our keyboards.
Their prolonged stay can lead to stiff keys and other malfunctions, and that is why you need to get rid of them with the best device that is well suited for the job; a keyboard Vacuum Cleaner.
A keyboard vacuum cleaner is a compact-sized handheld device built to enhance your keyboard's functionality by removing dirt, debris, food particles, and dust from your keyboard. Its design makes it highly effective for removing dirt from narrow and tight corners that would have ordinarily been ignored.
It keeps the keyboard neat and contributes to prolonging its functionality and durability. If you're ready to take out the dirt, food crumbs, and dust that found solace in your keyboard, then you should help yourself with the best three keyboard vacuum cleaners in the market.
Our Top 3 Picks For The Best Keyboard Vacuum Cleaner
Meco Keyboard Vacuum Cleaner
Dry and Wet Keyboard Vacuum Cleaner
This Keyboard vacuum cleaner is built with a strong suction power and two-in-one Vacuum nozzles that functions as a crevice nozzle for removing debris in tight keyboard corners and a multi-function brush at the other end that easily picks up hair and dirt on delicate surfaces and upholstery.
It has a cordless design that enables smooth and easy movement. At the same time, it is being used, and this cordless design is enabled by its intelligent power management technology that integrates a long-lasting battery that provides power for up to thirty minutes on a single charge.
Its dry and wet amphibious design makes it a very suitable choice for the effective removal of dust, debris, crumbs, and liquids from your keyboard. It is versatile and can be used for other activities outside vacuuming a keyboard.
Pros and Cons
Pros
It has a cordless design.
It is built with a two in one Vacuum nozzle.
It can be used for both dry and wet conditions
Cons
It does not charge fast.
It does not come with a charger.
Jaok Keyboard Vacuum Cleaner
Multi-functional Keyword Vacuum Cleaner
The cordless design, low operational noise, and excellent sealing feature employed by this keyboard vacuum cleaner to convert more air into suction for optimal cleaning effect are a few out of the many excellent features that make it a highly suitable choice for cleaning mechanical keyboards, gaming keyboards, PC keyboards, and computers.
The Jaok keyboard Vacuum Cleaner further employs two Vacuum nozzles that make it easy to clean narrow corners effectively. It further employs a removable and washable filter that can effectively separate large particles from dust.
This keyboard Vacuum Cleaner's workability is sponsored by the energy-saving features that allow it to function at 8W after it has been fully charged to provide power for up to fifty minutes. It operates with low noise and can be used for cleaning cars and other narrow corners where dirt is likely to settle in.
Pros and Cons
Pros
Its battery can last up to fifty minutes on a single charge.
It has a cordless design.
It has two Vacuum nozzles.
Cons
It cannot be used while it is charging.
It operates with a loud noise.
Vetgux Keyboard Vacuum Cleaner
Rechargeable Handheld Keyboard Vacuum Cleaner
This multi-purpose keyboard vacuum cleaner has a two-way design with one end that functions as a suction nozzle for vacuuming. The other end functions as a dust blower for taking out dust particles that can affect the functionality and durability.
It is built as a rechargeable handheld vacuum cleaner powered by a 2500mAh high capacity Lithium battery that functions on an 80W high power motor with a suction power that exceeds 4500pa to effectively vacuum narrow corners in your keyboard and wipe away dust with its air blower when needed.
It features a washable HEPA filter that also serves as a Large capacity dust collection cup. It is built with four different attachments that promote easy movement while it is being used. Its multipurpose feature makes it suitable for use on different devices.
Pros and Cons
Pros
It functions as a keyboard vacuum cleaner and an air dust blower.
It has a washable HEPA filter.
It can last for up to thirty minutes
Cons
It is a bit loud.
It is not a lightweight option.
Conclusion
Constant use of the keyboard can cause dirt and bacteria to settle in its tight corners and that is why you need to be equipped with a keyboard Vacuum Cleaner to keep it clean and promote its functionality so that it can serve you better and longer.
I hope that this article was resourceful in your search for a computer keyboard vacuum cleaner and if you still want to check for more options, kindly check them out on Amazon.